Baked Ziti Recipe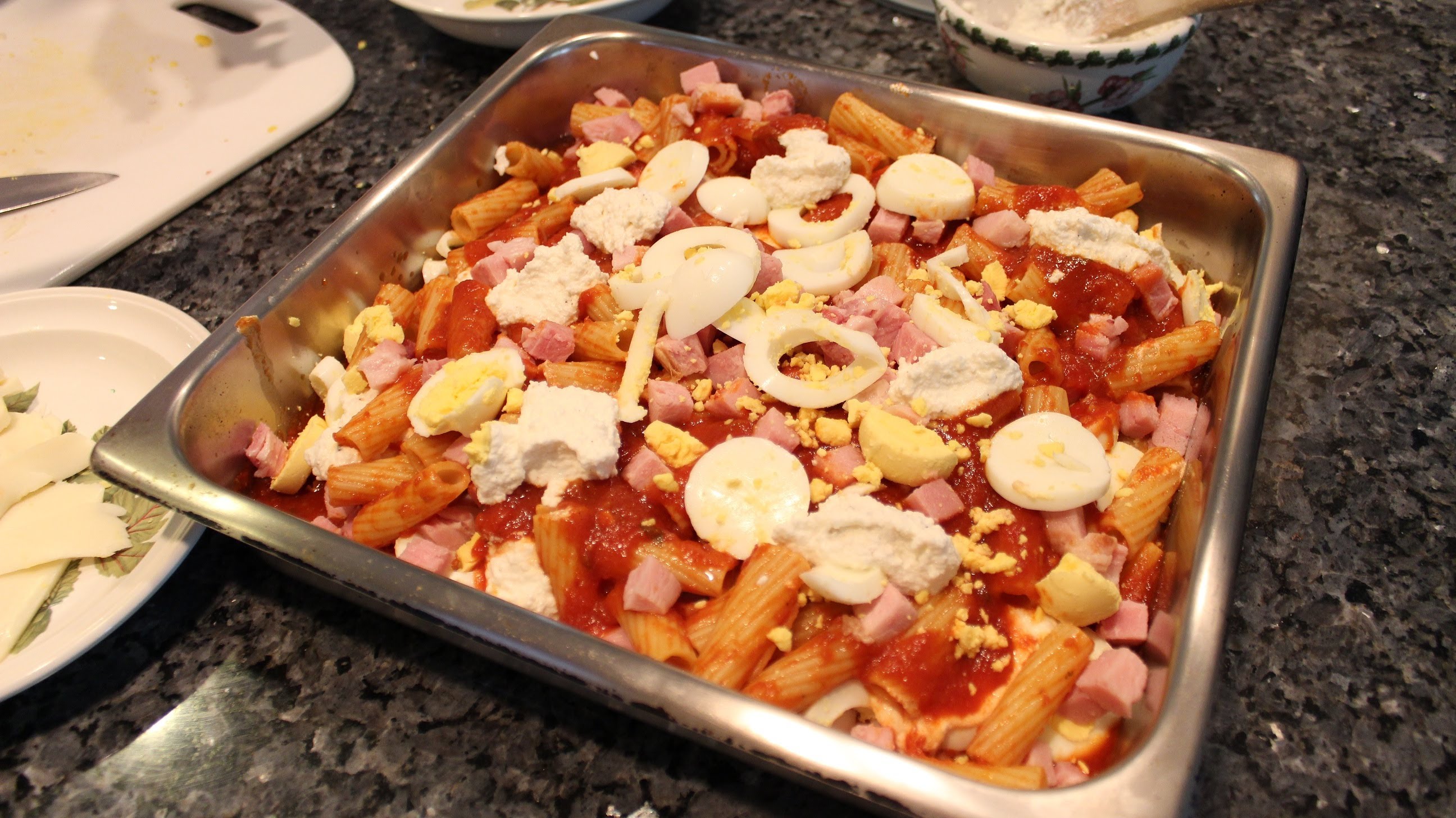 Hello Everybody! Today I want to share with you my baked ziti recipe. I am feeling under the weather and needed something quick and easy to prepare for dinner. I also wanted it to be something delicious so I went with this baked ziti recipe. I hope you enjoy it!
Ingredients:
1/2 lbs. Rigatoni (can use other pasta)
3 boiled eggs
1/2 lbs. ham
1 cup mozzarella, shredded
1/2 cup fresh mozzarella balls, small
3 cups tomato sauce
1/4 cup parmesan cheese, grated
salt, to taste
black pepper, to taste
Oven Temperature: 400°F
Start by bringing a pot of water to a boil to cook the pasta. Add salt to the water to your preference. In the meantime, heat up the tomato sauce on low heat. While waiting for the pasta to cook, slice the eggs horizontally and put aside on a separate dish. Next, cut the ham into small cubes.
Once the pasta is cooked, drain and it and put it back into the same pot or a mixing bowl. Start by adding salt and pepper to your preferred taste.
Next add a few ladles of tomato sauce to fully coat the pasta. Add the cubed ham, eggs, and mozzarella (shredded and fresh) and the parmesan cheese to the pasta bowl and mix all together.
Add a couple of ladles of tomato sauce to the bottom of a baking dish, making sure to fully cover the bottom of the dish. Then add the pasta mix over the sauce. Add the rest of the tomato sauce right on top of the pasta.
Sprinkle a little bit more of freshly grated parmesan cheese on top and it is ready to be put in the oven at 400°F for 1 hour. Remove from the oven and serve. Cin cin!
---
---