The recipe I would like to share with you today is Vegetable Lasagna. Lets get started!
Ingredients:
2 Eggplant
3 Red Sweet Pepper
2 Zucchini
10 Basil leaves
Parsley
1 pound Spinach
3 Eggs
1 pound Ricotta
1 1/2 jars of Sauce
6 oz Parmigiana
14oz Mozzarella
Black Pepper
Salt
1 pound Lasagne
Preheat the oven to 400 degrees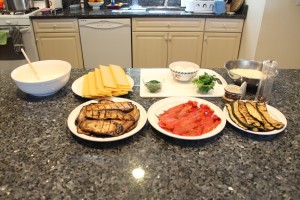 Preparing the vegetables
The spinach just needs to be steamed for about 3 minutes, and set aside. To prepare the red sweet pepper, zucchini, and eggplant we will need to do a few things. Starting with the sweet pepper, I put the sweet peppers on the BBQ for about 10 minutes, or until it looks ready. See my other video to get an idea of what to do next with the red pepper. I then cut the sweet pepper long ways...
Read More