Hello everybody! Today's recipe is for Mozzarella in Carrozza. My mother used to make me this snack almost everyday after school when I was growing up. This dish is easy and delicious and an Italian take on the American grilled cheese sandwich. Video tutorial found below.
Serves: 6
Cook Time: 25 minutes
Ingredients:
1 fresh mozzarella ball, thinly sliced
2 Eggs
1/2 stick of butter
8 slices of ciabatta bread
1/2 cup of milk
flour (enough to cover the bottom of a dish)
olive oil
salt and black pepper to taste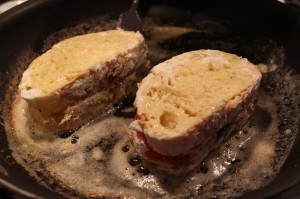 Preheat the oven to 400 degrees. Drizzle a little oil on top of each slice of bread and then place on an oven safe dish and bake/toast for 5 minutes. Crack your eggs into a bowl and scramble using a fork. Add a pinch of salt and black pepper to taste and mix...
Read More