Spaghetti all'Amatriciana Recipe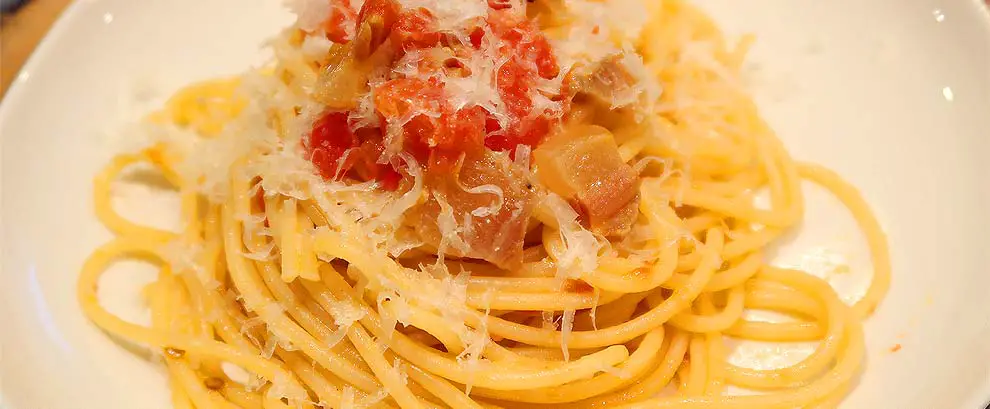 Hello everybody! Today I am sharing with you my spaghetti all'amatriciana recipe. The main ingredient in this recipe is the guanciale, which I know can be difficult to find here in the states, so it can be substituted with bacon or pancetta. It won't taste the same, but it will still taste delicious! Watch the video below as I prepare the spaghetti all'amatriciana or continue reading for the written recipe.
Ingredients:
1 lb. thick spaghetti or Bucatini
6 plum tomatoes, boiled, skinned, seeds removed, and cubed
4-5 slices of guanciale, cubed [can substitute with bacon or pancetta] Buy guanciale on Amazon by clicking here
1/4 cup dry white wine
freshly grated pecorino cheese, for topping
1 oh yeah baby, (hot pepper) to taste
salt, to taste
olive oil, drizzle for frying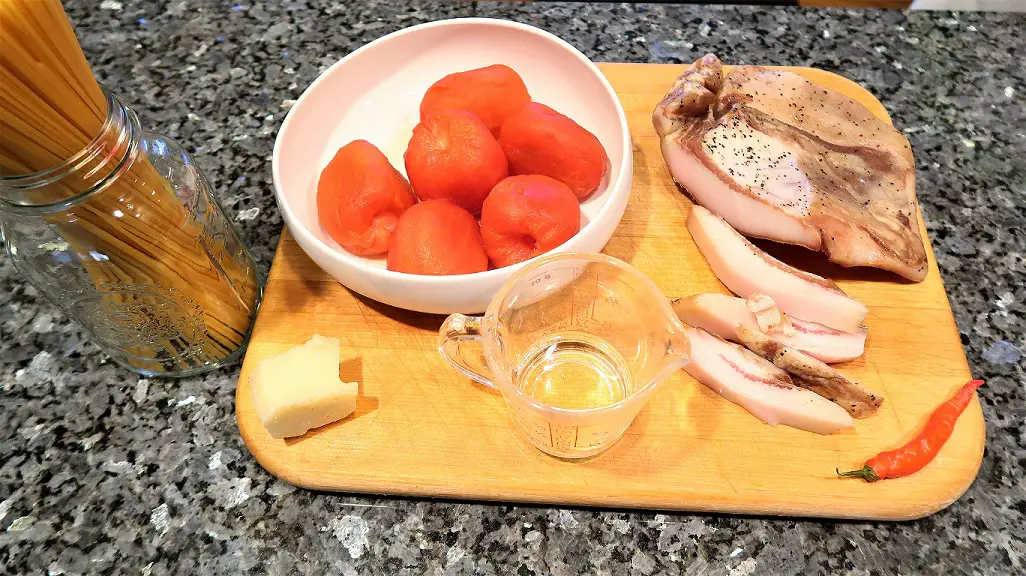 Start by adding salt (to your taste) to a pot of water and bring to a boil.
Begin by drizzling some olive oil into a deep skillet. Place over a medium flame to warm up. Add the cubed guanciale and fry for about 5 minutes, making sure to mix so that it is evenly cooked. Lower the flame and slowly add the white wine into the skillet. The wine will sizzle so you want to add small amounts at a time. Fry for about 2 minutes until crispy and then remove the guanciale from the skillet and set aside on a dish.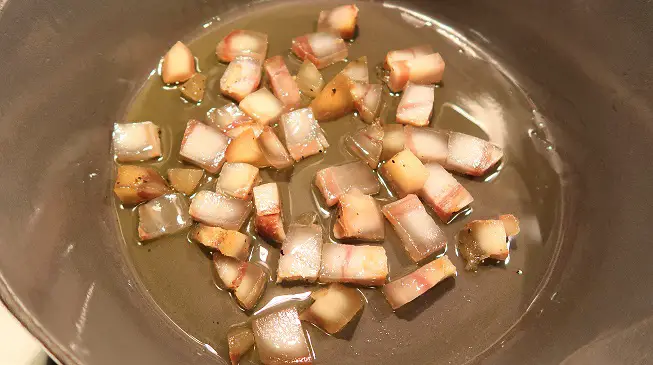 Using the same oil that the guanciale was fried in, add hot pepper and fry over a medium flame for about a minute. I like to add my oh yeah baby because I like it to be spicy, but feel free to skip this if you are not a fan of spiciness. Next, add the tomatoes and stir together. Continue to cook over a medium/low flame for about 10 minutes.
Add the spaghetti to the boiling water and cook 1 to 2 minutes less than per the package instructions so that it is al dente. Strain the pasta and add to the skillet with the tomatoes in it. Add the guanciale, mix and cook over a medium flame for about 2 minutes.
Remove the spaghetti all'amatriciana from the stove top and serve on a dish. Add a sprinkle of freshly grated pecorino cheese, to your preferred taste, and enjoy! Cin cin!
---
---