Hello everybody! Today I want to share with you this delicious shrimp parmigiana recipe that is super easy to make. This shrimp parmigiana recipe is perfect for a week night when you need to whip up something quick, but don't want to skimp on flavor. Pair this with a side salad or over your favorite pasta. Watch below as I explain step by step how to create this dish or scroll to the written recipe.
Ingredients:
1 lb. large shrimp, (about 16 shrimp) peeled and butterflied
**all-purpose flour
**breadcrumbs
2 eggs, scrambled
1/2 lb. fresh mozzarella, sliced
1/2 – 3/4 cup fresh parmigiano cheese, grated
2-3 cups of tomato sauce
salt, to taste
black pepper, to taste
1/4 cup olive oil
2 Tbsp. butter
**about 1/2 cup or just enough to fill the bottom of a dinner plate.
Turn the oven onto 400°F. Heat the oil in a frying pan at medium heat to prepare to fry the shrimp.
Start off by peeling the shell off of the shrimp. To remove the tails, pinch at the base and pull off. Cut down the back side of the shrimp to remove the dark vein. Use your fingers to open up the shrimp, or butterfly them, so that they are now flat. Wash them well and then season them with salt and black pepper.
Add salt and black pepper, to taste, to the flour and mix. Crack 2 eggs into a bowl, add salt and pepper, to taste, and scramble all together.
Pat each side of the shrimp onto the flour and then dip each shrimp into the eggs. Pat each side of the shrimp onto the breadcrumbs until fully coated and then place into the frying pan to cook. Add the butter and fry each side for about 3-4 minutes or until golden.
In a baking dish, pour 2 to 3 scoops of tomato sauce to cover the bottom of the dish. Place each shrimp on top of the sauce and then sprinkle freshly grated parmigiano cheese on top.
For the mozzarella, I used 1/2 a fresh mozzarella ball, sliced it into 8 pieces and then cut each of those slices in half in order to have 1 slice for each shrimp.
Layer the mozzarella slices on top of each shrimp and then top off with more tomato sauce. Add as much sauce as you'd like.
Place the baking dish into the oven and let cook for about 5-7 minutes or until the cheese has melted.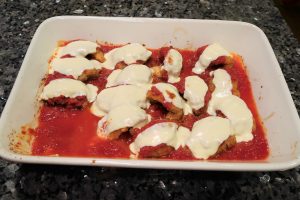 Remove the baking dish from the oven and serve. I enjoyed this with a side of arugula salad, but you can also layer it over pasta. So good! Cin cin!