Chicken Piccata Recipe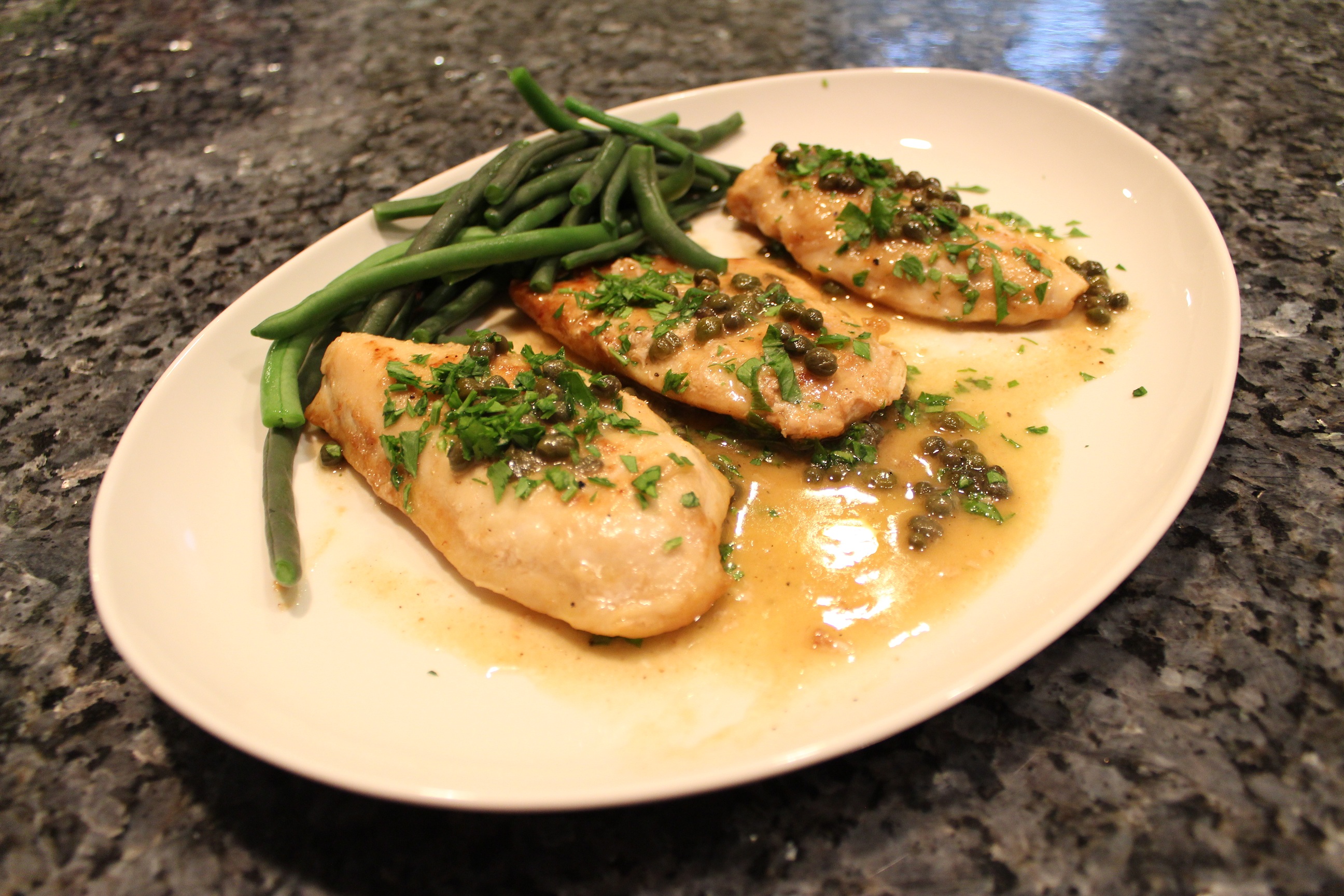 Hello Everyone! I have been on a roll lately with these super easy and quick recipes. Today's post will be a chicken piccata recipe. This simple recipe can be done in less than 30 minutes, which is perfect for a midweek dinner. Serve with veggies or rice on the side, and you have got a delicious meal to eat! Watch the video to follow along or scroll down to read the written recipe. Grazie!
Ingredients:
3 washed and dried chicken cutlets
flour, poured on a dish to cover both sides of chicken
1/4 cup of small capers
Juice of 2 whole lemons
2 cloves of garlic chopped in half, for flavor
handful of fresh parsley, chopped
1/4 cup white wine
extra virgin olive oil
1 Tbsp of butter
salt and pepper to taste
Begin by washing and drying the chicken cutlets. Next trim the fat off of the chicken and remove any veins. Cut the chicken cutlets in half, length wise. This way, you will be left with 6 thin pieces of chicken cutlets.
Coat the bottom of your frying pan with 1-2 Tbsp of olive oil and add the butter and garlic. Place the pan over high heat/flame until the butter melts completely.
Once the butter is completely melted, lower the stove to medium heat/flame and coat each side of the chicken cutlets with flour and then place them into the frying pan. After 5-6 minutes, flip the chicken over to cook the other side. The color of the chicken should be a golden brown color. Remove the garlic during this step and add the lemon juice, white wine, and capers. Lower the flame/heat to low and add black pepper and salt to taste. Mix the broth around a bit and flip the chicken again to add salt and pepper to the other side. Leave on low heat to reduce the wine and lemon juice.
Once wine and lemon juice is reduced, serve the chicken piccata with a bit of chopped fresh parsley on top of the chicken pieces. That's it!
Serve with a side of rice or veggies, like string beans, as seen in my video, to complete your meal. Serve hot and enjoy!
---
---