There's something so satisfying about making your own pasta from scratch – the texture, the taste, and the pride that comes with creating something delicious from simple ingredients. Whether you're a seasoned cook or a beginner, making pasta at home is a fun and rewarding experience that's definitely worth trying. With a few basic ingredients and some patience, you can create your own delicious pasta in no time. So, let's roll up our sleeves, dust off our countertops, and get ready to make some homemade pasta!
You can use the fresh fettucine to make my fettucine shrimp alfredo recipe!
Once you've rolled your pasta dough into a ball, you can allow it to rest for thirty minutes or you can continue right away. Without rest, the pasta will be a little bit firmer.
Note: The fresh pasta dough can be kept in the fridge no more than two days after letting it rest for thirty minutes at room temperature, but is best used right away. Fresh pasta can also be frozen and stored for up to one month. For freezing, allow the cut pasta to fully dry for twelve to twenty-four hours and then place in airtight containers or bags before placing in freezer. Once you are ready to cook them, add the frozen pasta into boiling salted water and cook until al dente.
Depending on the pasta machine cutter attachments you get, you can make several types of pasta, like fettuccine and spaghetti!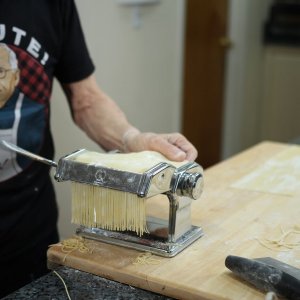 How To Make Homemade Fresh Pasta
Learn how to make homemade pasta with my step-by-step guide. With just a few simple ingredients, you can create delicious and satisfying pasta right in your own kitchen.
Ingredients  
2

cups

Flour

type"00"

2

Large Eggs

1/2

tsp.

Salt

1/2

Tbsp.

Extra Virgin Olive Oil
Instructions 
Add the flour onto a large clean surface and make a well in the middle.

Add the eggs, salt and olive oil to the well and gently beat with a fork.

Slowly start mixing in the flour from the sides of the well into the egg mixture. Keep mixing until the dough comes together and is no longer sticky. If the dough is too dry, add a few drops of water at a time until it comes together. If too sticky, dust it with a little bit of flour.

Knead the dough for about ten minutes, until it is smooth. Roll into a ball and cut it in half. Cover with a clean kitchen towel. You can allow it to rest for thirty minutes or you can continue right away. Without rest, the pasta will be a little bit firmer.

Sprinkle flour onto the clean surface, flatten a dough half with your hands, and then run the dough through the pasta machine on the widest setting, three times.

Run the dough through the pasta machine three times on the second widest setting, level 2, three times on level 3 and then one to two times on levels 4, 5, and 6, depending on your desired thickness.

Sprinkle flour on both sides of the rolled out pasta dough sheet and cut the sheet at the desired length for your fettuccine.

Run the pasta sheets through the pasta cutter on your pasta machine.

Once you have made all of your pasta, bring a large pot of salted water to a boil.

Cook the pasta until al dente. Keep in mind that fresh pasta cooks faster than dry pasta. Drain the pasta and serve with your favorite sauce.
Video