Hello everybody! Today I am sharing with you a delicious pasta with broccoli rabe and sausage recipe. I chose to make this recipe with orecchiette, but you can make it with any pasta you'd like. It's delicious and easy to make! Follow along with my step by step video tutorial below or continue scrolling for the written recipe.
Ingredients:
2 spicy italian sausage
1/2 onion, chopped
4 garlic cloves, 2 whole + 2 chopped
6 fresh plum tomatoes, peeled and chopped
1 large bunch broccoli rabe, blanched
1 lbs. orecchiette
4 Tbsp. olive oil
1 Oh Yeah Baby (hot pepper), optional
1/4  cup dry white wine
pecorino cheese
salt, to taste
Prepare the tomatoes by boiling and then removing the skin. Cut the sausage casing and squeeze the sausage contents onto a dish into small chunks. Blanch the broccoli rabe in boiling water for 2 minutes and then quickly place them into a bowl of ice water. Leave in ice water until completely cool and then remove them from the ice water and drain on a towel lined plate.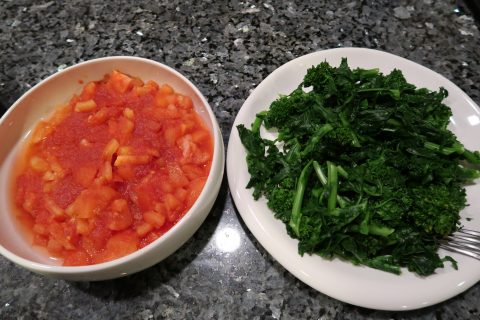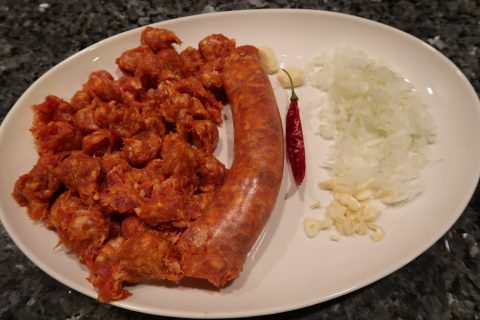 Bring a pot of water to a boil and cook the orecchiette as per the package instructions.
In a deep skillet, start by frying 2 cloves of garlic in a Tbsp. of olive oil, over medium heat, for about 1-2 minutes and then add the sausage. Continue stirring the sausage for about 2-3 minutes so that it evenly cooks and then add the onions, chopped garlic and hot pepper. After a minute, pour the wine into the sausage skillet and stir all together. Stir in the tomatoes and a dash of salt. Lower the flame and let cook for 5 minutes, making sure to stir occasionally. Lastly, add the broccoli rabe and let cook for another 5 minutes and then remove from heat.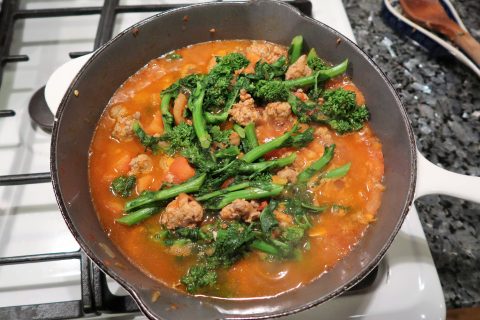 Mix in a large bowl with the orecchiette. Sprinkle some freshly grated pecorino on top and serve. Enjoy and cin cin!