Ribollita, which means "reboiled," was born out of frugality and resourcefulness. You see, in our tradition, nothing goes to waste. This recipe has been passed down through generations, from the days when peasants relied on humble ingredients to create nourishing meals. We would save leftover bread, stale and dry, and use it to thicken soups and stews. One day, you make a pot of hearty vegetable soup, and instead of serving it all at once, let it cool and set it aside. The next day, add the leftover bread, reheat it, and something magical happens. The flavors intensify, the soup thickens, and it transforms into this wonderful, rib-sticking dish we now call Ribollita.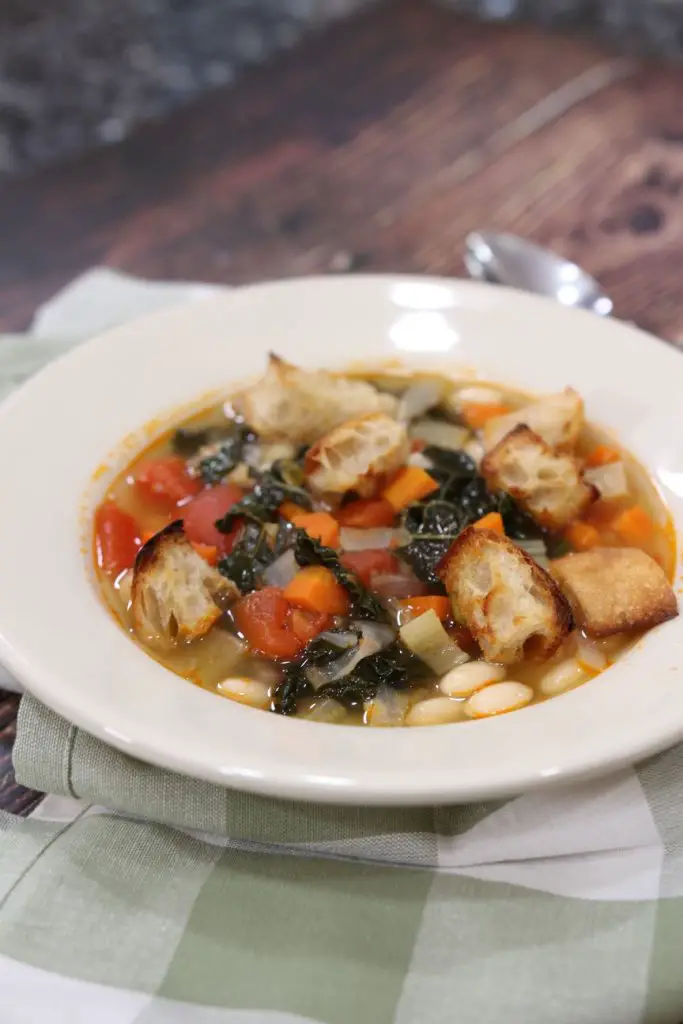 As the years passed, Ribollita became more than just a practical way to use leftovers. It became a symbol of resilience and community. In the humble kitchens of Italy, families would gather around steaming bowls of Ribollita, breaking bread and sharing stories. The simple combination of seasonal vegetables, beans, and herbs provided comfort and sustenance during challenging times. Today, this recipe carries the spirit of generations past, reminding us to appreciate the abundance of nature and the value of togetherness. Although the traditional recipe adds the bread to the soup to thicken it up, I prefer to add the bread to my bowl just before serving so that there is still a nice crunch to the bite. This way, everyone at the table can add the amount of bread they prefer to their bowl to enjoy.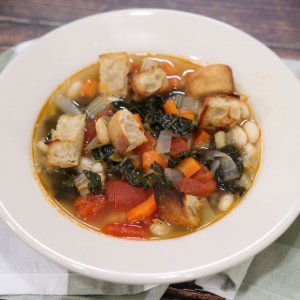 Ribollita
Ribollita is a rustic Tuscan vegetable soup that combines hearty ingredients such as cannellini beans and kale, simmered together with stale bread to create a comforting and flavorful dish, offering a taste of warmth and nourishment in every spoonful.
Ingredients  
1/2

Onion

diced

4

Garlic Cloves

chopped

3

Carrots

diced

Celery Stalk

diced

1

Tbsp.

Tomato Paste

1

Bay Leaf

5

Plum Tomatoes

skin and seeds removed and diced

4

cups

Chicken Stock

or vegetable stock

1

bunch

Kale

stems removed and leaves chopped

4

cups

Cannellini Beans

cooked and drained

1

Dry Baguette

cubed

Salt and Black Pepper

to taste

Extra Virgin Olive Oil

Pecorino Romano Cheese

for topping, optional
Instructions 
Add a large drizzle of olive oil in a large pot or Dutch oven and heat over medium heat. Add the chopped onion and minced garlic and sauté until the onion becomes translucent and fragrant, about 5 minutes.

Add the diced carrots and celery to the pot. Cook for another 5 minutes, stirring occasionally, until the vegetables begin to soften.

Add the tomato paste, bay leaf and tomatoes to the pot. Season with salt and black pepper. Stir well to combine all the ingredients.

Pour in the chicken stock, ensuring that the ingredients are fully covered. Bring the soup to a boil, then reduce the heat to low and let it simmer for 20 minutes.

Meanwhile, preheat the oven to 400°F/200°C and set rack to middle position. Cut up the baguette into cubes and place in a large bowl. Add a drizzle of olive oil and shake to coat the evenly. Place the cubed baguette on a baking sheet and place in the oven until toasted and crispy, about 10 minutes.

Add the kale and cannellini beans to the pot and stir everything together. Let cook for another 10 minutes over medium heat.

Once the Ribollita is done cooking, remove it from the heat and let it rest for a few minutes before serving. This will allow the flavors to further enhance.

Add your desired amount of the toasted baguette to your bowl and ladle the Ribollita on top of it. Sprinkle some grated Pecorino cheese on top, if desired. Serve it hot and enjoy!
Video