Christmas will be here in less than a week! If you're still not sure what you will be cooking this holiday, try this delicious stuffed Calamari recipe. Being Italian, every Christmas we do a feast of 7 fishes. This dish includes 3 of them and makes for a perfect starter dish. Watch the recipe in the video below or read on for the full written recipe.
Ingredients:
1/2 lbs Scallops, cubed
3 Calamari
1 Calamari, chopped
1/4 lbs Shrimp, chopped
1/4 lbs tentacles [calamari heads]
1/2 cup bread crumbs
1 egg
1/4 Onion, chopped
4 cloves of garlic, chopped
Handful of Parsley, chopped
1/4 stick of butter
1 1/2 cup Tomato sauce, spicy
Lemon juice from half a lemon
Black pepper, to taste
Salt, to taste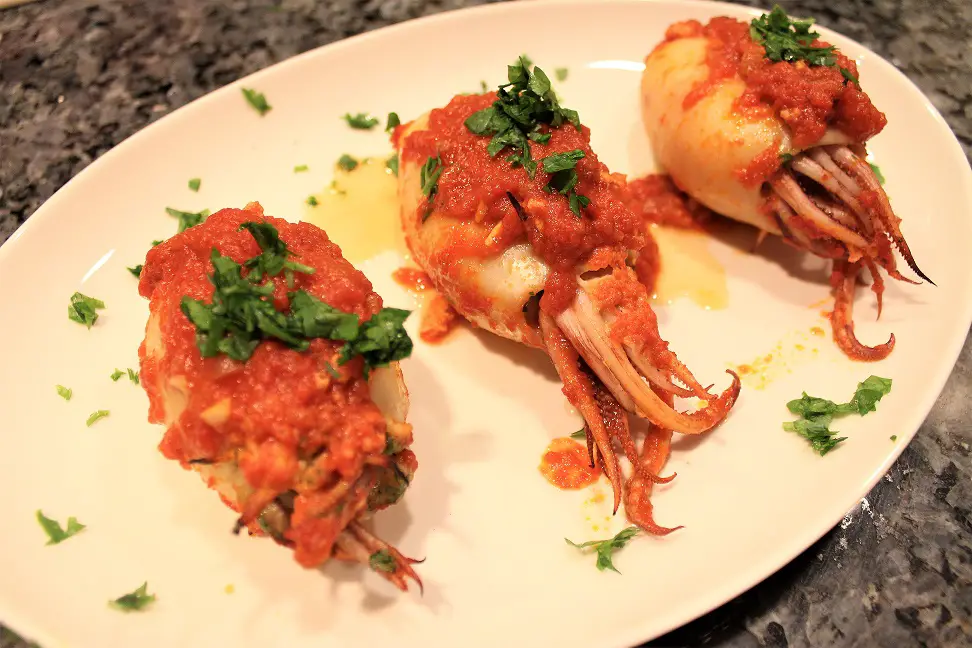 Preheat the oven to 400 degrees. Bring the calamari and the tentacles to a boil over medium/high heat for about 10 minutes until tender. Add the juice of half a lemon to the water to keep the color of the calamari white.
After 10 minutes add cold water to cool off the fish and remove from the pot.
In the meantime, heat the tomato sauce on low heat.
Melt butter in a frying pan over high heat and then add the onions, garlic, scallops, shrimp, tentacles and chopped calamari and reduce heat to medium for about 5-7 minutes. Remove from heat and let cool off for 10 minutes in a bowl before moving onto the next step.
In a separate bowl, add 1 egg and mix in the fried fish. Add parsley, salt, black pepper, and 5 Tbsp. bread crumbs and mix. Once mixed, begin stuffing the calamari and top off with the tentacles. Keep in place with with a toothpick.
Place the Stuffed Calamari in a baking dish over a layer of tomatoes sauce and then add the rest of the tomato sauce over the calamari leaving just a little bit to add when serving. Place in the oven for about 25-30 minutes.
After 30 minutes, remove the baking dish from the oven. Place stuffed calamari on individual dishes and add a little bit more sauce on top and fresh chopped parsley. Serve while hot. Don't forget the oh yeah babies! Salute and cin cin!