Hello everybody! Today I am sharing with you my stuffed zucchini flowers recipe. I remember my parents picking zucchini flowers from our farm in Italy and not knowing what they needed the flowers for. My mother then took the time to explain to me that with a little patience, they can be stuffed and fried and turns out, they taste delicious! You have a lot of options for stuffing, but my favorite is mozzarella and prosciutto. Watch the video below as I prepare the stuffed zucchini flowers or continue reading for the written recipe.
Ingredients:
10 zucchini flowers/blossoms
1 cup all purpose flour
1/3 cup vodka
~8 oz. sparkling water
1/3 fresh mozzarella ball, cubed
4 slices prosciutto, diced
1/2 tsp. baking powder
1/4 cup fresh pecorino cheese, grated
pinch of salt, to taste
handful fresh parsley, chopped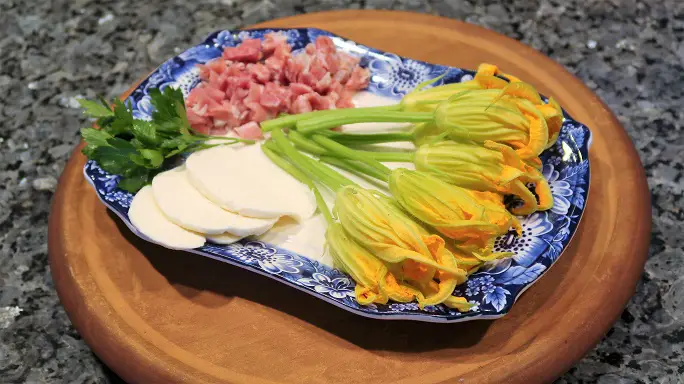 To prepare the flowers, rinse them in cold water and then cut the pistils out from the middle of the flowers.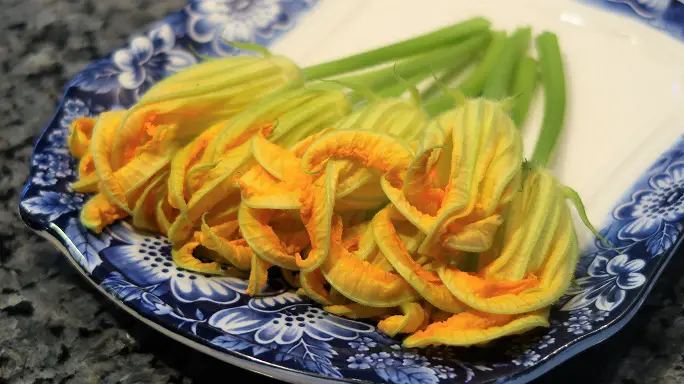 Fill a deep skillet halfway with vegetable oil. Heat up over medium-low heat until hot.
Starting with the batter; mix the flour, salt, and baking powder with the vodka using a whisk. Add the sparkling water, a little bit at a time and whisk until there are no clumps. You want the batter to be a little thick but more liquid, like a pancake batter. Set aside and begin preparing the stuffing.
In a bowl, mix the mozzarella, prosciutto, parsley and pecorino cheese.
Working with one flower at time, grab a handful of the stuffing mix, open the petals and stuff it with the cheese mix. Close the petals around the stuffing and set aside. Continue the same steps with each flower.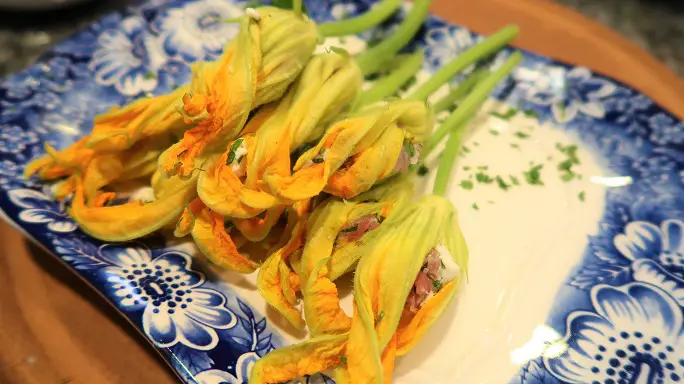 Dip each stuffed zucchini flower into the batter mix and then put it into the oil skillet over medium/low heat. Fry for about 3 minutes on each side or until a golden brown on each side.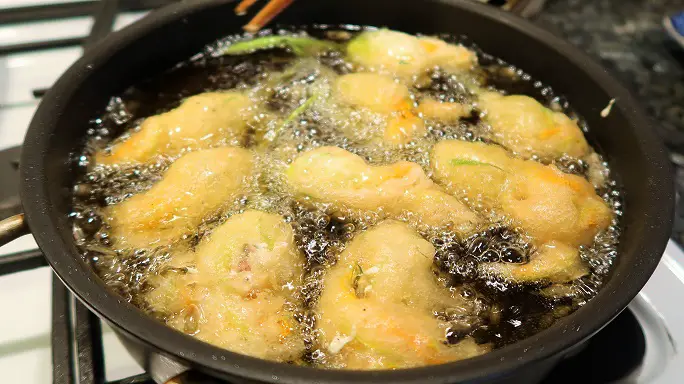 Remove from the oil using a hand strainer and place over a dish covered with paper towels to absorb the excess oil.
After a couple of minutes, serve and enjoy! Cin cin!