The recipe I would like to share with you today is Vegetable Lasagna. Lets get started!
Ingredients:
2 Eggplant
3 Red Sweet Pepper
2 Zucchini
10 Basil leaves
Parsley
1 pound Spinach
3 Eggs
1 pound Ricotta
1 1/2 jars of Sauce
6 oz Parmigiana
14oz Mozzarella
Black Pepper
Salt
1 pound Lasagne
Preheat the oven to 400 degrees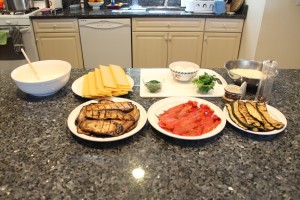 Preparing the vegetables
The spinach just needs to be steamed for about 3 minutes, and set aside. To prepare the red sweet pepper, zucchini, and eggplant we will need to do a few things. Starting with the sweet pepper, I put the sweet peppers on the BBQ for about 10 minutes, or until it looks ready. See my other video to get an idea of what to do next with the red pepper. I then cut the sweet pepper long ways. To prepare the eggplant and zucchini, see the video down below.
In a big bowl, add the ricotta cheese. Add in the parmigiana cheese, and mozzarella cheese. Next add in 3 eggs. Add in the chopped parsley and basil. Add in the chopped spinach. Add black pepper, and salt to taste. Now you need to mix all of the ingredients together. For now you can cover the bowl with saran wrap and leave it in the fridge.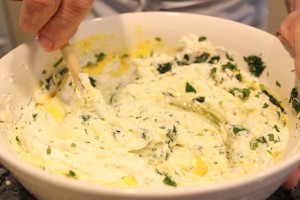 The next step is to cook the lasagna pasta. When it is done, add the pasta into a pot of cold water. Let it sit for about a minute, then drain all of the water. We're now ready to layer the lasagna.
In a lasagna pan, coat the bottom with a thin layer of tomato sauce. I use my own tomato sauce, but you can use any sauce you like. The next layer will be the lasagna pasta. Now you will need to add another layer of sauce. The next layer will be the ricotta mix that we created earlier. Next you will need to add the vegetables. Add a few pieces of eggplant, zucchini and sweet pepper. Now add some parmigiana cheese and mozzarella on top. Continue these same steps until you get near the top of the lasagna pan.
The last top layer will require only lasagna pasta, sauce, mozzarella and parmigiana cheese. Now add the lasagna into the oven for 45 minutes. Let it sit for about 10 minutes before eating.