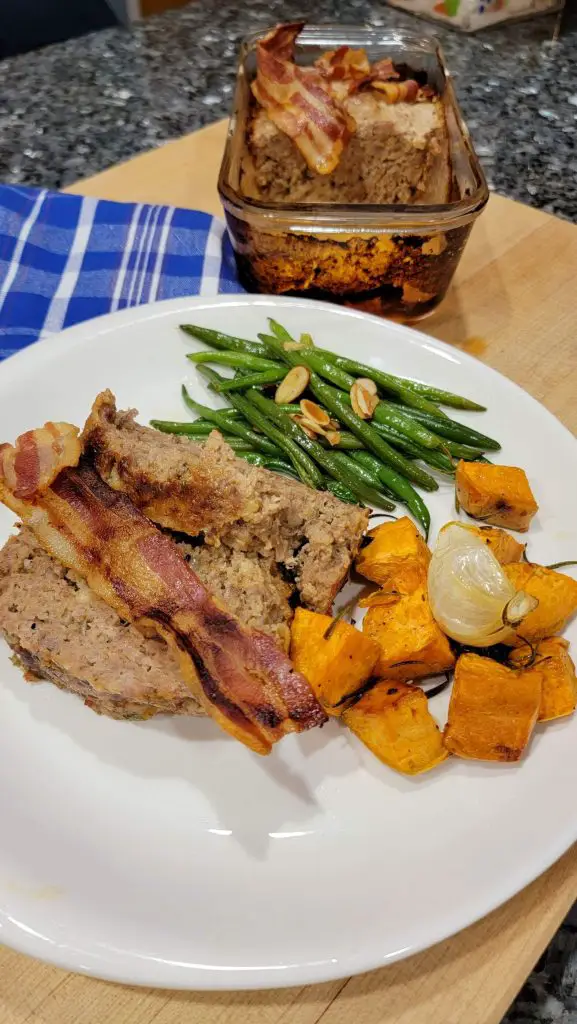 This bacon-topped meatloaf is perfect for the colder seasons when hearty, warm dishes hit the spot. This classic comfort dish combines a mix of pork, beef, and veal with tasty ingredients like sautéed onions, garlic, and a hint of Worcestershire sauce. Panko breadcrumbs and milk make it tender, while a layer of bacon on top adds a delicious crunch. With a perfect blend of herbs and spices, this meatloaf is a simple yet satisfying choice for a cozy family dinner or any night when you crave hearty goodness!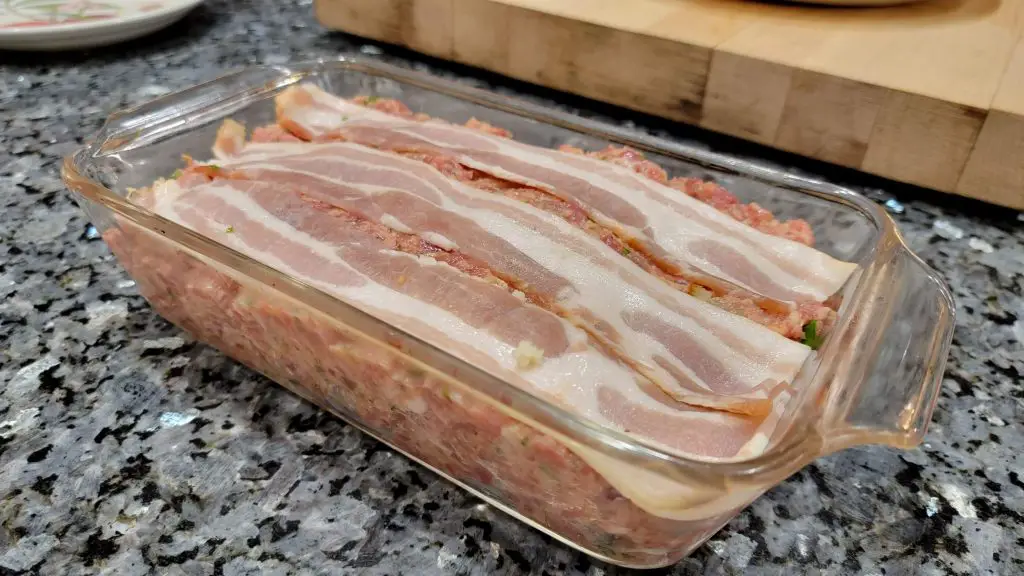 Bacon-Topped Meatloaf
This bacon-topped meatloaf is a savory and comforting dish that's perfect for a family dinner.
Ingredients  
1.5

lb

Beef, Pork, Veal Mix

1

Egg

1

cup

Panko Breadcrumbs

1/2

cup

Milk

1/2

Onion

chopped

3

Garlic Cloves

minced

1/3

cup

Parsley

finely chopped

2

Tbsp.

Ketchup

or tomato paste

1

Tbsp.

Worcestershire Sauce

3

Bacon Slices

Hot Pepper Flakes

to taste

Extra Virgin Olive Oil

Salt and Black Pepper

to taste
Instructions 
Add a drizzle of olive oil to a frying pan. Add the onion and garlic and sauté for 15 minutes over low heat, ensuring not to burn. Season with salt and black pepper. Remove from pan and set aside to cool.

Preheat oven to 400°F and place rack in middle position.

Meanwhile, in a large mixing bowl, combine the pork, beef, veal mix.

Add the egg, panko breadcrumbs, and milk to the meat mixture.

Incorporate the sautéed onion and garlic, finely chopped parsley, ketchup, Worcestershire sauce, hot pepper flakes, salt, and black pepper. Mix everything together until well combined.

Transfer the meat mixture to a greased or parchment-lined baking dish.

Shape the mixture into a loaf shape, ensuring it's evenly distributed in the dish.

Lay the bacon slices across the top of the meatloaf, tucking the ends underneath.

Place the meatloaf in the preheated oven and bake for approximately 1 hour or until the internal temperature reaches 160°F.

If the bacon begins to crisp too quickly, you can cover the meatloaf with foil to prevent it from burning.

Once cooked through, remove the meatloaf from the oven and let it rest for 10 minutes before slicing. This resting period allows the juices to redistribute, keeping the meatloaf moist.

Slice the meatloaf into even portions and serve with your favorite sides, like baked sweet potatoes or green beans almondine.