Bucatini di Mezzanotte, which means "midnight bucatini" in Italian, is not a specific recipe, but rather a term used to describe a late-night pasta dish. The ingredients for this dish can vary widely depending on personal preferences and what ingredients are on hand.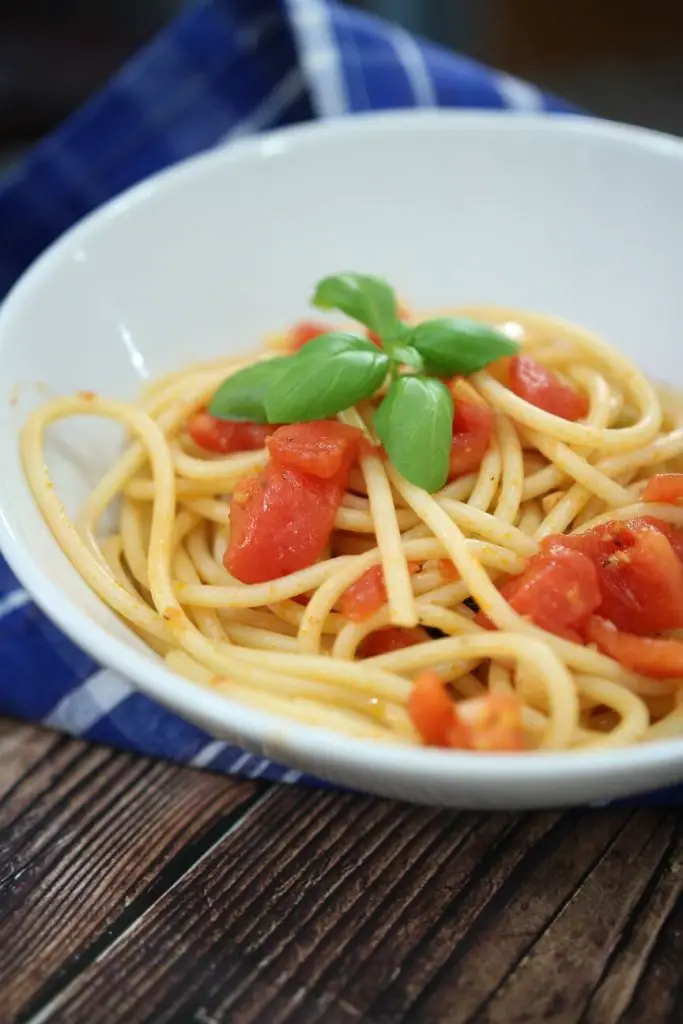 Typically, Bucatini di Mezzanotte would involve cooking bucatini, or your preferred pasta, until al dente, and then tossing it with a simple tomato sauce made from canned or fresh plum tomatoes, garlic, and olive oil. Some people might add chili flakes or fresh herbs such as basil or parsley to the sauce.
In general, the idea behind Bucatini di Mezzanotte is to make a quick and easy pasta dish using ingredients that are readily available in the kitchen at any time of night. It is a comfort food that can be prepared in minutes and enjoyed with a glass of wine or beer.
For this recipe, I chose to flavor the fresh plum tomato sauce with garlic, hot pepper, and fresh herbs like rosemary, thyme, sage and basil. I then removed the rosemary, thyme and sage before adding the pasta to the skillet.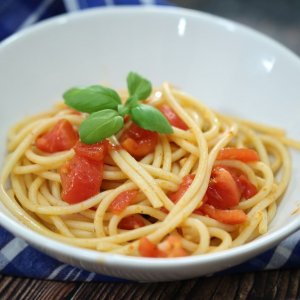 Bucatini di Mezzanotte
Midnight Bucatini is a delicious Italian pasta dish that features bucatini pasta cooked until al dente and mixed with a flavorful tomato sauce made from plum tomatoes, garlic, hot pepper and fresh herbs! The idea behind the recipe is to make a quick and easy dish using ingredients that are readily available in the kitchen at any time of night.
Ingredients  
1

lb.

Bucatini

7

Plum Tomatoes

peeled, deseeded and diced

4

Garlic Cloves

chopped

1/2

Italian Long Hot Pepper

chopped

10

Sage Leaves

Handful

Basil Leaves

2

Rosemary Sprigs

5

Thyme Sprigs

Extra Virgin Olive Oil

Salt and Black Pepper

to taste

Pecorino Cheese

for topping
Instructions 
Fill a medium-sized saucepan with water and bring it to a boil. Once boiling, carefully place the tomatoes in the saucepan and boil for 1 minute. Remove the tomatoes from the saucepan and place in a bowl of ice water. Let the tomatoes sit in the ice water for a minute or two. Gently squeeze each tomato or use a knife to remove the skin. It should come off easily. Cut the tomatoes in half, remove seeds and then dice.

While waiting for the water to boil, chop the garlic and hot pepper.

Bring a large pot of salted boiling water to a boil to be used to cook the pasta.

In a large skillet over medium-high heat, add a large drizzle of olive oil. Once heated, add the chopped garlic and hot pepper and cook for about 1 minute or until fragrant.

Add the herbs and sauté for another minute.

Add the cubed tomatoes and half of the basil leaves to the skillet. Season with salt and black pepper to taste and cook for about 10 minutes or until the tomatoes have broken down and created a sauce.

Meanwhile, add the bucatini to the boiling water and let cook until al dente, 1 minute before the package instructions.

Just before the pasta is ready, remove the rosemary, thyme, and sage leaves from the sauce.

Once the pasta is ready, scoop directly into the skillet, add the rest of the basil leaves and mix well with the tomato sauce.

Serve hot with sprinkle of pecorino cheese on top and enjoy!
Video