Chef Pasquale and Johnny Meatballs Have A Ball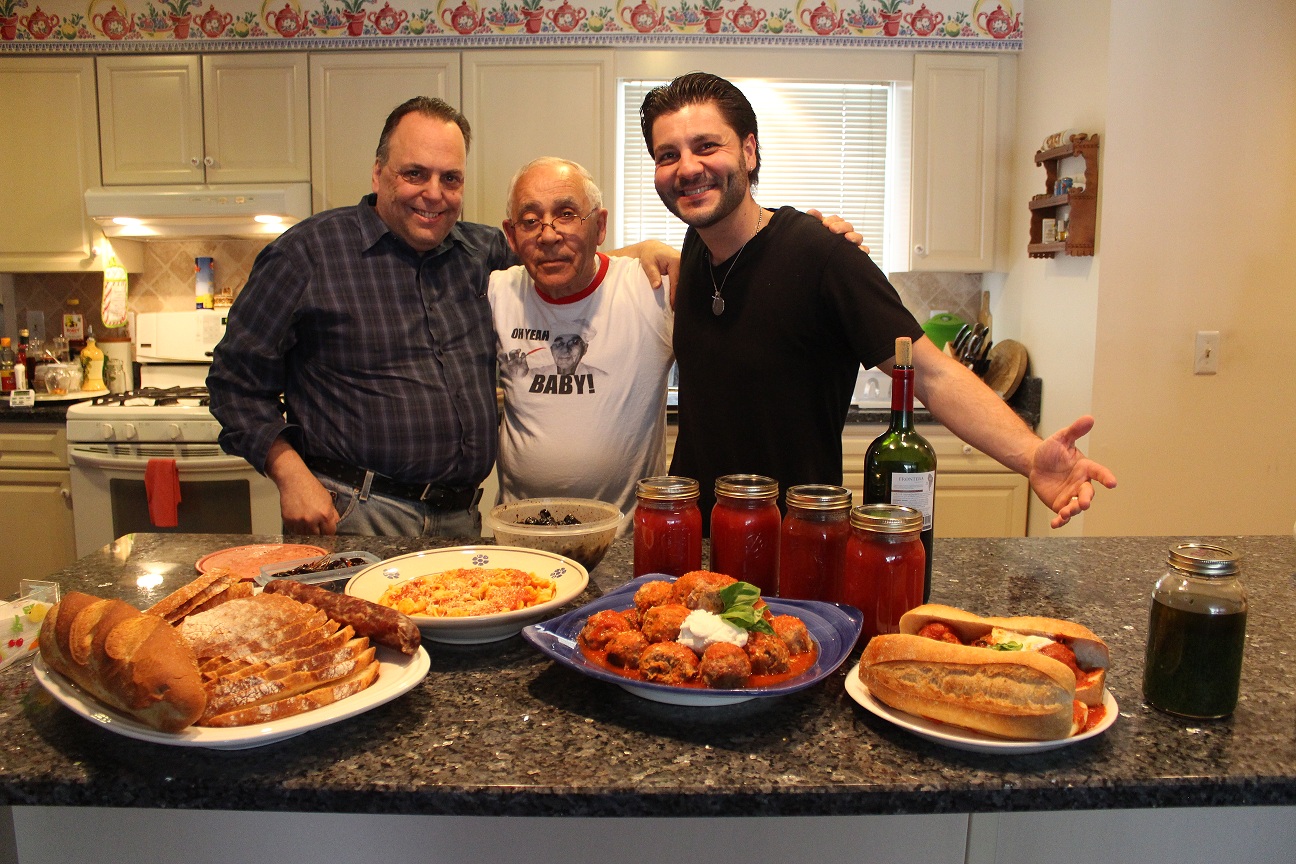 I recently made meatballs with the meatball king of New Jersey, Johnny "Meatballs" DeCarlo. We had a really great time in the kitchen together, and made some really delicious meatballs. Just watch the video, and you'll see how the day was. Interested in Johnny's meatball recipe? No problem, you can find his recipe down below!
Johnny's Meatballs In Sunday Gravy
Next, combine cooled onions, chopped garlic (4-5 cloves), one pound of meatloaf mix (this is equal parts veal-pork-beef), one spoon tomato paste, half cup grated cheese – parmigiano/romano blend, half cup breadcrumbs (plain and panko mixed together), a dash of "Johnny's Special 10-Spice Blend" (this is sea salt, cracked pepper, dry oregano, chopped fresh basil and five other spices. You can use what's labeled as Italian Seasoning in this case), liquid eggs (sold by the carton, use the equivalent of 3 eggs.)
Once everything is in a bowl, start mixing until it's solid enough where you can pick up the mix and it stays together. Then, roll balls, making sure your hands are wet at all times and place them on a buttered cookie sheet so they are all touching each other in rows.
Bake in the oven at 425 degrees for the first 12-14 minutes to achieve a crisp crust which simulates fried meatballs, then finish off the final 16-18 minutes at 300 degrees. Oven times may vary as well as settings. You may need to use broiler mode to achieve level of desired crust. At this point the meatballs are fully cooked, but you may finish them in your pot of sauce/gravy for an additional 20-40 minutes to flavor the tomatoes. I always use New Jersey tomatoes, which are available in cans now at most grocery stores if you do not grow your own in a garden. Enjoy!
To order Johnny's Meatballs delivered, write to johnny.decarlo@gmail.com.
---
---