Couscous Recipe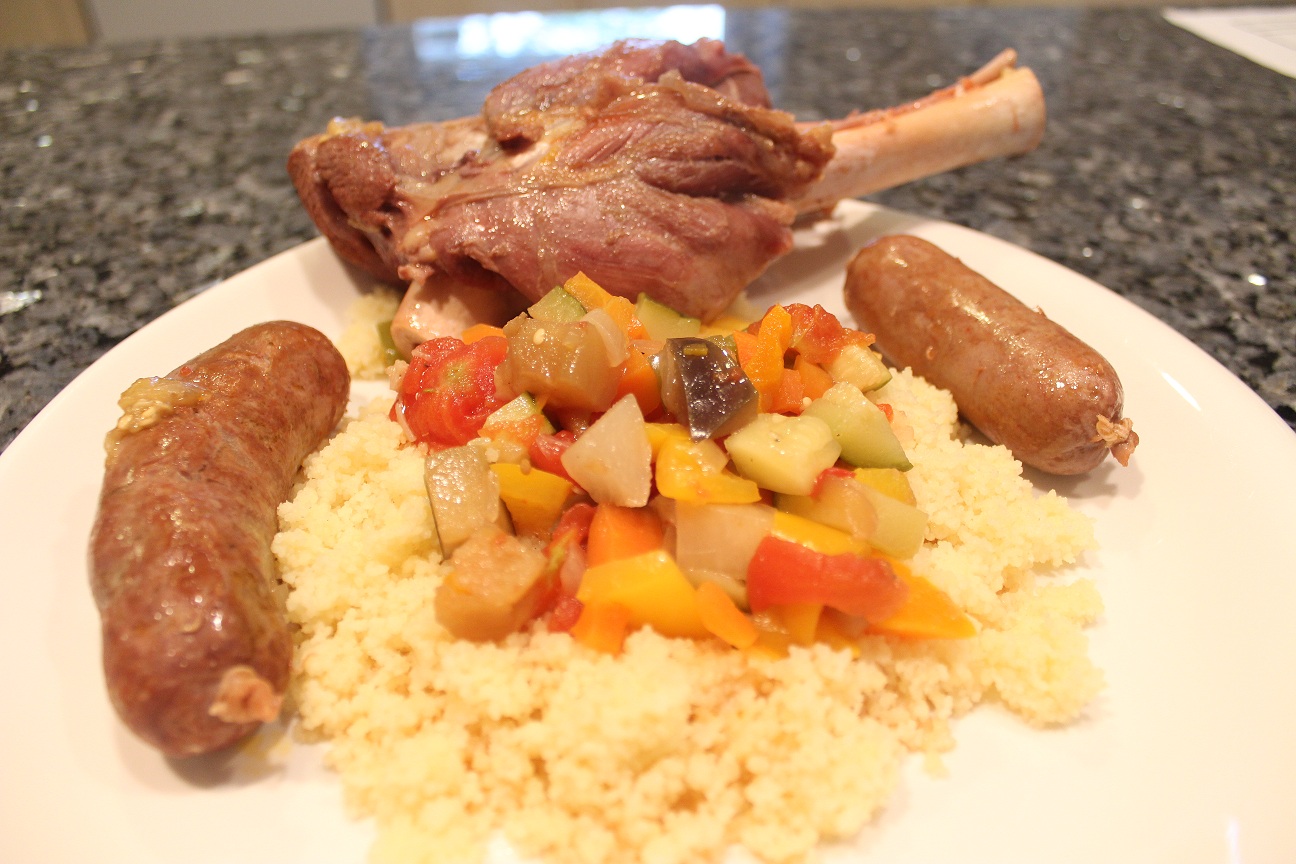 Today I would like to share with you my Couscous recipe. I learned this recipe while in France visiting my sister in laws. This recipe is really delicious, and I hope you enjoy it!
Ingredients:
2 lamb shanks, seasoned with salt, black pepper and rosemary the night before
2 eggplants, cubed
3 large carrots, cubed
2 zucchini's, cubed
1 red sweet pepper, cubed
1 green sweet pepper, cubed
1 turnip, cubed
1 can of chick peas, cooked
1 onion, diced
5 garlic cloves, diced
2 oh yeah babies
1 box of couscous
pot of chicken broth or water
4 Tbsp. olive oil
6 peeled plum tomatoes
7 marguez sausages
black pepper, to taste
Salt, to taste
Start by adding olive oil into a clean pot. Warm up the pot of chicken broth as well. Once oil is heated up, add lamb shanks into the pot to brown for a few mintues on each side. Once browned, add garlic and onion to the pot. Mix the onions and garlic in the pot for a few minutes until cooked without letting them burn.
Next, add the carrots, turnip, eggplant, and sweet peppers into the pot and mix to sautee all ingredients for about 5 minutes. Add the chicken broth to the pot and bring to a boil over medium/high heat. Add the plum tomatoes to the pot and mix all ingredients.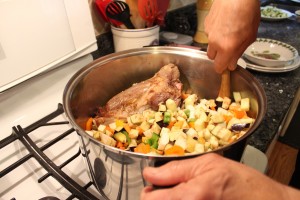 Add black pepper to taste. If you like it to be more spicy, add two oh yeah babies to the mixture. Once the broth is boiling, add the zucchini and chick peas. You add those last since the zucchini is soft and cooks fast and the chick peas are already cooked. Mix all the ingredients in the pot together. Reduce flame to low and cook for 90 minutes.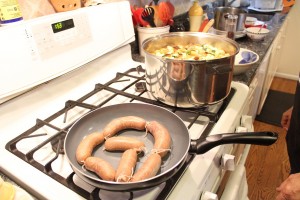 In a separate pan, add the sausages to brown over a medium flame for a few minutes. Once browned, add the sausages to the broth pot. In a separate pot, cook the couscous as per the packages directions. Add salt to taste.
Add broth ingredients to couscous and enjoy!
Tip: Poke holes in your sausage casing using a thumb tack prior to cooking.
---
---