This recipe that I would like to share with you is perfect for Easter. I will be showing you how to make Fettuccine with Walnuts and Bread Crumbs. Let's get started. In addition to the written recipe, you can find the video recipe below.
Duration: Approximately 25 minutes
Ingredients:
1 pound Fettuccine
Pecorino Cheese or Parmigiana Cheese
1 cup Walnuts
3/4 cup Bread Crumbs
4 tbsp Olive Oil
2 tbsp Butter
Parsley
Basil
4 cloves Garlic
Oh Yeah Baby (Hot pepper)
First begin by putting water into a big pot, and put it on the stove on high heat. Add salt to the water for taste. Begin by adding 4 halved garlic cloves, 4 tablespoons of olive oil, 2 tablespoons of butter, and 2 chopped up hot peppers into a pan. Put it on the stove on medium to low heat. While the pan is heating up, you will need to chop up the walnuts.
The walnuts do not need to be chopped up too small. Once the butter and olive oil is heated up, with the garlic beginning to turn slightly brown, add in the chopped walnuts, and bread crumbs. Stir until evenly mixed. Now put the heat on low. Stir occasionally.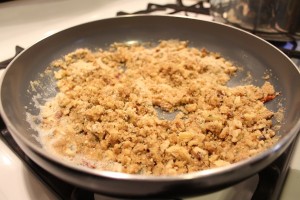 At this point, the water in the pot for the pasta should be boiling. Add the one pound of pasta in the pot. Next chop up the parsley and basil.
The next step is to add 2 ladles of water from the boiling pasta into the pan with walnuts and bread crumbs. Mix occasionally. Once the pasta is finished cooking, drain the water, but save enough water to add to the pan of walnuts and bread crumbs. Add the pasta to the pan. You can add another 2 ladles of water, and mix evenly.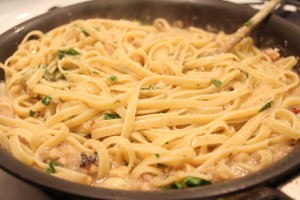 You don't want the sauce to be too liquid. See pictures, or video for example. You may now add the parsley and basil into the pan, mix evenly. Save some basil and parsley to add to your dish at the end. The last step is to add about a half cup of grated pecorino cheese into the pan, mix evenly.
Serve a dish, top it off with a little more basil, parsley, and pecorino cheese.
Enjoy!