The recipe that I would like to share with you today is frog legs with linguine and fresh plum tomatoes. The recipe is really easy, and you'll only need a few things.
Ingredients:
Frog Legs
1 Pound Linguine
4-5 Plum Tomatoes
Hot Pepper (Oh Yeah Baby!)
Garlic
Onions
Butter
Oil
Parlsey
Basil
Flour
White Wine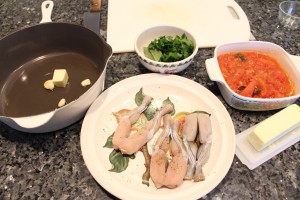 The first step in this recipe is to prepare the frog legs. The day before I cooked my frog legs, I defrosted them and coated them with a bit of salt and black pepper. I left them in the fridge over night, but you can do it all the same day if you like. The next step is to make the spicy diavolo marinara sauce. Peel the plum tomatoes. Chop each of them into quarters. Next in a pan add about 2 tablespoons of olive oil, 3 chopped cloves of garlic, and a half chopped onion. Put the pan on the stove on medium to high heat. Let the onions and garlic fry for about 3 minutes, then add in the chopped tomatoes, and hot pepper. Now put the heat on low. You just want it to simmer while you prepare the frog legs.
Now in another pan, add 3 whole cloves or garlic, 4 tablespoons of olive oil, and 2 tablespoons of butter. Put it on the stove on medium to high heat. Next we will coat the frog legs in flour to fry them. I cut my frog legs in half, and then coated each one with flour.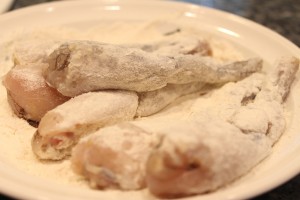 Once the pan of oil and butter is hot enough, I added in the frog legs to fry. At this point I also added 4 tablespoons of white wine. You want to fry them about 4 minutes each side.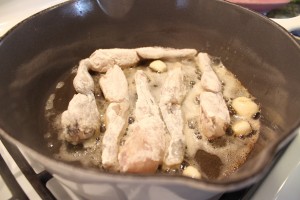 Once they're cooked on both sides, you can add in the tomatoes. Put the stove on low heat; a slow simmer. Now we will let the legs and tomatoes cook for about 30 minutes. Make sure to stir occasionally.
The last step is to cook the linguine. Once the linguine is boiled, and drained, and some into a dish, and top it off with the tomatoes, and frog legs!