Hello Everybody! Today I am finally sharing with you a highly requested recipe. This Fettuccine Alfredo with Chicken Recipe is delicious and will satisfy your craving for a rich and creamy dish! Watch the video below to follow along as I cook this recipe.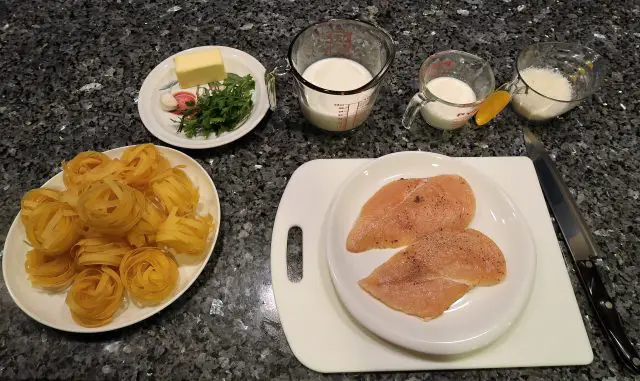 Ingredients:
1lb fettuccine
1 chicken breast, sliced in half
2 cups whole milk
1/2 cup heavy cream
4 oz butter
3 cloves of garlic, chopped
1 cup pecorino cheese, shredded
black pepper, freshly grounded to taste
salt, to taste
handful of parsley, chopped
Bring a pot of water to a boil with a dash of salt. Cook the pasta as per the package instructions.
Begin by seasoning the chicken with black pepper and salt. Grill the chicken on each side for about 5 minutes or until about halfway cooked. Once the chicken is halfway to fully cooked, removed from the grill and cut into smaller pieces. Cut each piece to your preferred size.
In a deep skillet, melt the butter down over a medium/high flame. Once melted, reduce the flame to medium and add the garlic and chicken slices. Continuously stir for about 2 minutes.
Next, add the milk and heavy cream. Bring to a boil over a medium/ high flame, making sure to stir occasionally. Once it is boiling, reduce the flame to low and continue to cook for 10-15 minutes.
Add the fettuccine into the skillet and stir together.  Add the grated cheese and continue to stir until completely melted for about 2 minutes.
Serve with a sprinkle of parsley on top. Enjoy and cin cin!