Hello everybody! My figs trees have been producing a lot of delicious figs this year and they are ready to be picked and eaten. I have so many of them right now and have been trying to add them to any dishes I make so they don't go to waste. I thought they'd be perfect on a pizza, and adding the prosciutto gives you a great sweet and salty mix! Continue reading for the written recipe or watch the video recipe below.
Homemade Pizza Dough Ingredients:
Pizza Dough
1 1/2 Tbsp. yeast
3 1/2 cups flour
1 cup warm water
1 tsp. salt
pinch of sugar
semolina flour
Pizza Toppings:
4 – 6 figs, sliced
4 – 6 prosciutto slices
1 handful of arugula
5 oz. goat cheese, softened to room temperature
1/4 cup pecorino cheese, grated
balsamic vinegar
extra virgin olive oil
1 Tbsp. corn flour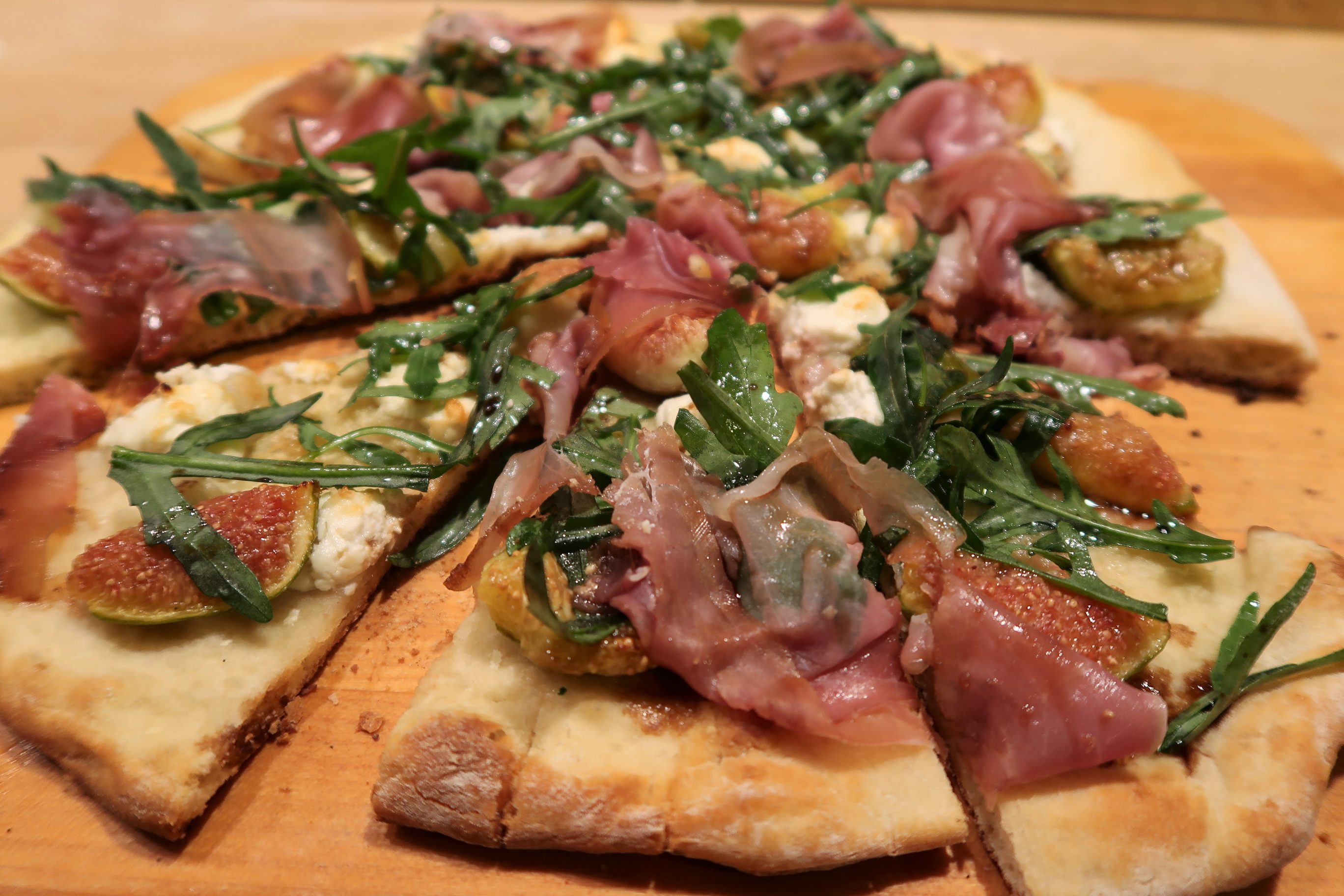 Place your pizza stone onto your BBQ and preheat to 500 degrees.
For the pizza dough recipe, check out my previous pizza post for the step by step instructions. You can also use store bought pizza dough.
Once the dough is ready, sprinkle a bit of flour on the area that you will roll your dough out. Use a dough roller to evenly flatten the pizza into a round shape.
Once you've rolled the pizza out to your desired thickness, sprinkle the corn flour evenly on top of a pizza peel; this will prevent the dough from sticking. Place the pizza dough onto the pizza peel.
Transfer the pizza dough onto the pizza stone and cook for about 1-2 minutes to harden the bottom of the dough a bit. Use the pizza peel to take the pizza dough out of the BBQ and set aside to add the toppings.
Drizzle a little bit of olive oil on top of the pizza dough. Add the figs on top and then use your fingers to break the goat cheese apart into small pieces and sprinkle over the pizza dough. Next, sprinkle freshly grated pecorino cheese evenly over the pizza dough and transfer back onto the BBQ and let cook for about 10 minutes or until the crust is crispy and lightly browned.
In the meantime, mix your arugula with a little bit of olive oil, enough just to coat the leaves.
Once the pizza is fully cooked, remove from the BBQ using the pizza peel. Add the arugula, prosciutto, and drizzle a little bit of balsamic on top to finish the pizza. Slice your pizza and you're ready to eat!
Enjoy and cin cin!