Today's recipe will be Linguine cooked with fresh tomatoes, anchovies, capers and olives.
Ingredients:
1 Pound Linguine
4 Plum Tomatoes
2 hand fulls of Cherry Tomatoes
3 Tablespoons of Capers
Half cup of Kalamata Olives
Olive Oil
2 Oh Yeah Baby (Chili Peppers)
5 Cloves of Garlic
Half Onion
Parsley
Parmigiana or Pecorino Cheese
Preparation:
Bring a pot of water to a boil, with the 4 plum tomatoes. You will need to boil the tomatoes until you notice the skin starting to peel off of the tomato. Once you see this, you can drain the water, and run the tomatoes under cold water. Let them sit for a little while, so they are not too hot when peeling off the skin. Once they cool down, peel off the skin. After peeling, cut the tomatoes into cubes.
Chop the garlic and onions. In a pan, add about 4 tablespoons of olive oil. Add the onions and garlic as well. Put the pan on the stove on medium to high heat. Do not let the garlic and onion burn. Lower the heat of needed. After about 4 minutes of frying, add in 4 to 5 jar preserved anchovies. Now put the heat on low. We will need to fry the garlic, onions, and anchovies, until the anchovies are almost melted into the olive oil.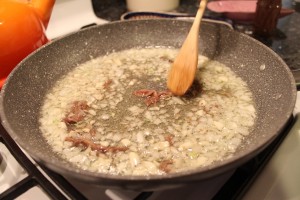 Next you will need to cut the cherry tomatoes into quarters. Add them into the frying pan with the other ingredients. Let fry for about 2 minutes, then add in the chopped plum tomatoes. You can now also add in the capers, and Kalamata Olives. Mix them evenly in the pan. You can now also add in 2 crushed Oh Yeah Baby chili peppers.
Bring another pot of water to a boil to cook the linguine pasta. After the pasta is done cooking, drain the water, and put the linguine back into the pot. Take about a spoon of the sauce, and put into the pot of linguine. Mix them evenly. Now serve the pasta in a dish, and top of the linguine with more of the sauce. You can also top it off with a small portion of chopped parsley, and a drizzle of olive oil.
Don't forget to add your favorite cheese on top too!