Today's recipe will be linguine with baby bok choy and shiitake mushrooms. I made this recipe one night because I had all of the ingredients and decided to try them all together.
Ingredients:
1 Pound Linguine
10 Baby Bok Choy
20 Shiitake Mushrooms
8 Garlic Cloves
1 Stick Butter
Salt
Black Pepper
Pecorino Cheese
Sesame Oil
1 Egg
Start by boiling water for the linguine pasta.
Begin by melting the butter in a large non stick frying pan. Once melted, add in the chopped 8 cloves of garlic. Fry them for about 2 minutes. Do not let them burn, or turn brown.
Next add in the washed baby bok choy leaves. You will cook them until they get a lot smaller, about 5 minutes on medium to high heat. The next step is to add the shiitake mushrooms. Mix the mushrooms and baby bok choy together, and then add in 1 1/2 tablespoons of sesame oil. You also now add in some salt and black pepper for your taste. Leave it the pan on low heat, and stir occasionally.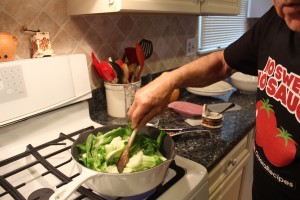 At this time the water should be boiling for the linguine. Add in one pound of the pasta, and add salt for taste. Once the pasta is done, remove the water, and dump the pasta into the pan with the baby bok choy and shiitake mushrooms. Quickly crack in one egg, and mix thoroughly. Once it looks like the egg has cooked, it is time to serve!