Hello everybody! Today I am sharing my linguine with scallops recipe. Adding tomatoes and a lot of garlic gives this dish a lot flavor. Keep reading for the written recipe or watch the video below where I show you step by step how I make this delicious linguine with scallops and tomatoes recipe.
Ingredients:
1 lb. pasta, linguine
~15 scallops, washed and dried
10 oz grape tomatoes, ends removed and sliced in half (or cherry tomatoes)
4 cloves garlic, minced
2 oz. butter
1/2 cup white dry wine, optional
handful of parsley, chopped
salt, to taste
black pepper, to taste
olive oil, for frying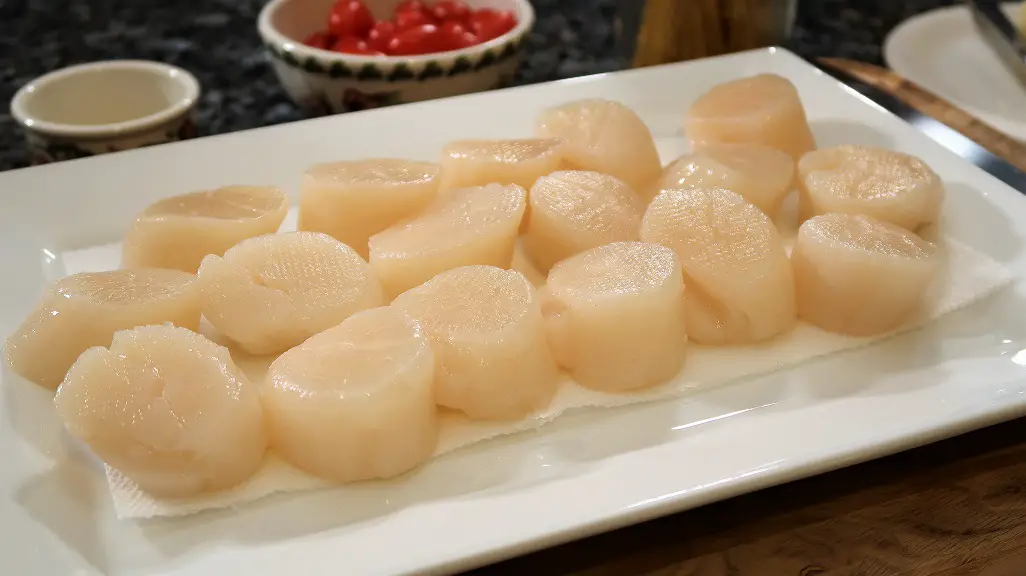 Bring a big pot of water to a boil. This will be for cooking the linguine.
Rinse the scallops well and then place on top of paper towels and cover with paper towels to absorb the excess water. Once dry, season with some salt and black pepper on one side.
Heat up a drizzle of some olive oil in a frying pan and start to fry the seasoned side of the scallops once the oil is very hot. Sprinkle some salt and black pepper on the scallops and cook for about 2-3 minutes before flipping onto the other side. After flipping to the other side, add the butter and cook for about another 2-3 minutes.
Remove the scallops from the pan and set aside on a dish. In the same pan, add a little bit more of olive oil and then add the garlic and fry for about 2 minutes or until golden. Add the tomatoes and white wine and cook for about 5 minutes.
While the tomatoes are cooking, add the linguine to the pot of boiling water and cook as per the package instructions.
After 5 minutes of the tomatoes cooking, add the scallops and continuously mix for about 2 minutes so that the scallops absorb the flavor of the garlic and tomatoes. Remove just the scallops from the pan again and set aside on a dish.
Once the linguine is cooked, scoop into the tomato and garlic pan and mix together.
Serve the linguine on a dish with some of the garlic and tomatoes and place some scallops on top with a sprinkle of freshly chopped parsley. Enjoy! Salute and cin cin!