Hello Everybody! Today I am sharing with you my pasta and peas recipe. This dish is so tasty, with salty bacon and sweet peas and tomatoes, it makes for a delicious mix. Watch the video below to see how I cook this recipe in real-time or keep reading for the written recipe.
Ingredients:
1 lb. pipette
1 lb peas
4 cloves of garlic, chopped
5 plum tomatoes, boiled, peeled and diced
1/2 small sweet onion, diced
3 slices of bacon, cubed
pecorino cheese, shredded for topping
3 Tbsp olive oil
salt, to taste
black pepper, to taste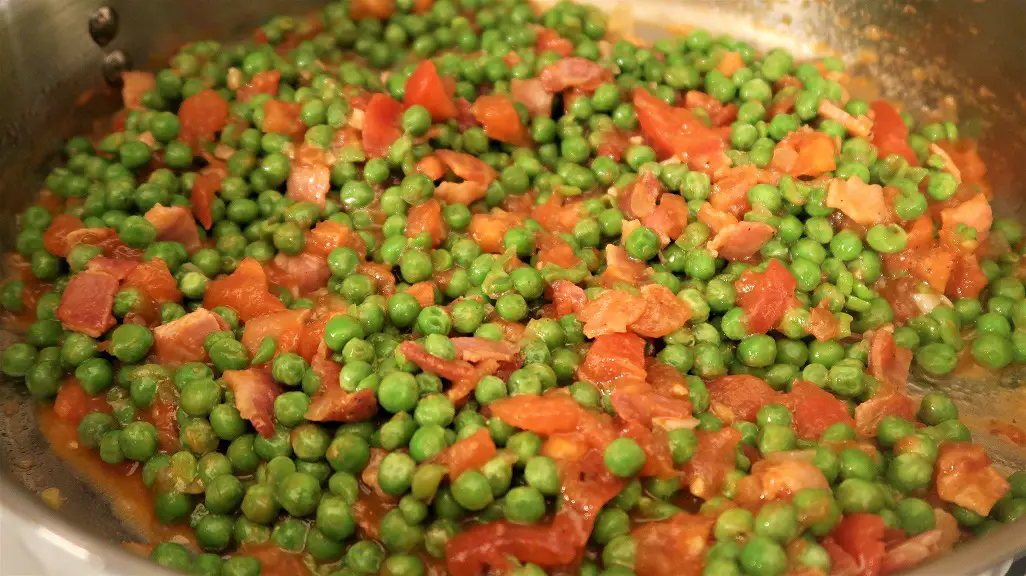 Bring a pot of water mixed with a pinch of salt to a boil.
Heat up a frying pan over a medium flame. Add the olive oil and start frying the bacon. Fry until the bacon starts to get a little crispy.
Add the onion and garlic and fry together for about 2 minutes while continuously stirring to cook evenly and prevent burning.
Next, lower the flame to low and add the tomatoes. Continue to cook for about 5 minutes.
Add the pasta into the boiling pot of water and cook as per the package instructions.
Add the peas to the tomato pan. Sprinkle salt and black pepper, to taste, and mix together. Cook for about 7 minutes over a very low flame.
Add the cooked pasta into the tomato and pea pan and mix together.
Serve with a sprinkle of pecorino cheese on top and enjoy! Cin cin!