Good evening to all! Welcome to Orsara Recipes by me, Chef Pasquale. Tonight I will like to share with you my Italian meatball recipe. With this meatball recipe you can make a meatball sub or even spaghetti with meatballs. This recipe is really easy to make, and I encourage you to try it! Don't forget to watch my step by step video below on how to cook this recipe.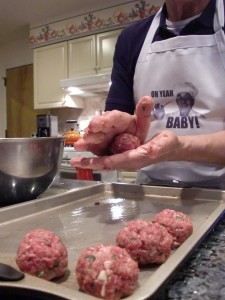 Ingredients:
Pork and/or Beef
4 chopped Garlic cloves
Half cup of chopped Parsley
Teaspoon of Salt
Teaspoon of Black Pepper
3 Eggs
1oz of Olive Oil
Half cup Bread Crumbs
Half cup of Parmigiana Cheese
Tomato sauce
The first thing that needs to be prepared is the meat for the meatballs. You can either use beef or pork, or both as I do in this recipe. You can buy the meat already prepared from the  super market or you can ground it up yourself, which is what I prefer. Place your ground beef/pork into a big bowl. Next you will need to put in the chopped garlic, parsley, salt, black  pepper, 3 eggs, bread crumbs and parmigiana cheese. Mix it evenly, with your hands or with a wooden spoon. Once mixed, roll golf ball sized meatballs and place them in a baking pan. Make sure the pan is coated with the olive oil first. Preheat the oven to 400 degrees.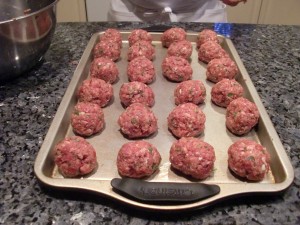 Place the meatballs into the oven for 15 minutes at 400 degrees.
When complete, they should look as they do above; extremely tasty! The next step is to put the meatballs into a big pot of tomato sauce, I prefer to use my homemade tomato sauce. Let them cook in the sauce on low heat for 20 minutes.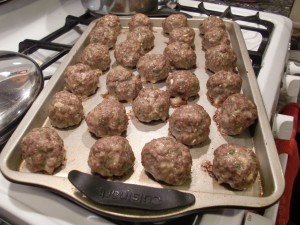 With these meatballs you can make a meatball sub or spaghetti and meatballs.  You can easily put them into a bread roll or over spaghetti. Salute and cin cin!