Hello everybody! Today I have a delicious rack of lamb recipe to share with you all. Ordering rack of lamb at a restaurant can be pretty expensive, but I can show you how easy it is to make it at home. Tastes so good you might not want to share! If you need step by step instructions, watch the video of me cooking this recipe below.
Ingredients:
Rack of Lamb
Mustard
Few stems of Rosemary
Thyme
4 clove fine cut Garlic
Salt and Pepper
Olive Oil
Small Potatoes
We will first need to coat the top of the lamb with mustard and spices, as seen in the picture above. First you will need to add a layer of mustard to the top, about 2oz – or depending on the size of the rack, it may be more or less. Next you will need to add the, garlic, rosemary and thyme. Make sure the rosemary leaves are removed from the stem and the leaves thinly chopped. The thyme can be chopped with the stems. You may also add a pinch of salt and black pepper to top it off. Put the rack of lamb into a container and store it in the refrigerator for 3 hours. You may do it for less, if you are on a tight schedule.
Now we will prepare the potato's. In a small bowl add the potato's with the skin. Drizzle about 1oz of olive oil over top of the potato's. Add a half teaspoon of both salt and black pepper and two stems of rosemary. Mix it altogether. This will be cooked at the same time as the lamb.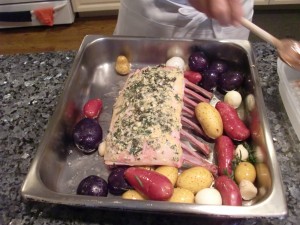 Preheat the oven to 400 degrees. Place the rack of lamb into a big oven pan, and add the potato's as seen in the picture above. Put the lamb into the oven for 45 to 50 minutes. Check the temperature of the lamb, once it hits 165 degrees it will need to be removed from the oven and covered with foil to sit for 10 minutes. In the mean time pour yourself a big glass of wine.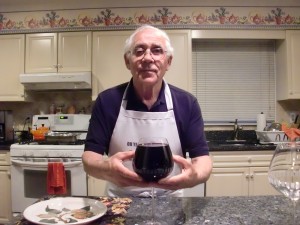 Now the rack of lamb is ready to be served! The lamb should be tender and juicy, and the potato's should also be perfectly cooked.