Hello everybody! This stuffed eggplant recipe is a delicious dish and takes less than an hour to cook! My stuffed eggplant recipe contains ground pork and beef, as well as my homemade tomato sauce. Let's go over the ingredients.
Ingredients:
1 Eggplant
1/4 Ground Pork
3/4 Ground Beef
1 Cup Tomato Sauce (Preferably made the way I make it)
1 Cup of Bread Crumbs
1 Cup of Flour
Mozzarella
3 Cloves of chopped garlic
1/4 minced onion
Tablespoon of red crushed peppers
1 Egg
Parsley
Olive Oil
White Wine
Salt
Preparation:
Slice the eggplant long ways into 5 slices. Dice up the onions and garlic. Add the flour into a flat dish. Add the bread crumbs into a flat dish.
For the ground meat, you can either purchase it already ground or ground it yourself. I prefer to ground the meat myself.
Recipe:
First we will begin preparing the meat sauce. In a pot or large pan, dump the garlic and onions; also add approximately 1/4 cup of extra virgin olive oil. Put it on the stove on medium heat. Let the olive oil, onions and garlic sizzle in the pan for about 3 minutes. Add the ground pork and beef. Mix the meat around. I notice when I cook with ground meat, a bit of fat is released. I like to add a bit of flour to absorb the fat and make it less watery. You can add a few tablespoons of flour into the pan of ground meat once it is already browned; stir again. I also like to add white wine for flavoring. Add about a half glass of white wine. The wine will be reduced, and absorbed by the meat.
Feel free to pour yourself a glass of wine here, and take a few sips. This is how I cook!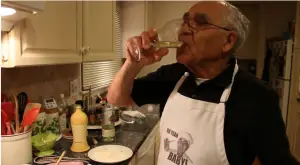 Stir the ground meat occasionally on low to medium heat. Once the meat looks to be fully cooked (about 10 to 15 minutes) add the tomato sauce. Stir everything, to evenly spread the tomato sauce. After about 5 minutes of simmering on low to medium heat, add the red pepper flakes and teaspoon of salt. Mix. Let this simmer on low heat.
Crack an egg into a plate, and add a pinch of salt. Mix the egg and salt, see video for instruction. Now we will prepare the eggplant slices for frying. First coat each eggplant slice in flour on each side. Next, coat each side of the eggplant slice in the egg. Then coat each side in the bread crumbs. After each slice has been properly coated, you will need to fry each slice in oil for a few minutes. See next step for directions.
In a pan, add about a 1/4 cup of olive oil. Heat the oil so that it is hot enough to fry the eggplant. Add each eggplant slice coated in the flour, egg, and bread crumbs in the frying pan for approximately 4 minutes on each side. The time to cook may vary, but flip the eggplant once the cooking side looks golden brown, see video for example. Once each eggplant slice is complete, put them in a big oven pan. Make sure the oven pan is first coated with a thin layer of olive oil.
By this time the sauce and ground meat should be ready! With the eggplant slices in the oven pan, you will now add the ground beef and sauce on top of each slice. See image below.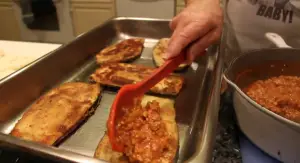 Add mozzarella to each eggplant. Once each eggplant has been topped off with the ground meat, sauce, and mozzarella it's ready to go in the oven! Put the oven pan in the oven at 400 degrees for 10 minutes. After ten minutes, pull it out of the oven and sprinkle each slice of eggplant with parsley.
That's it! Enjoy and cin cin!