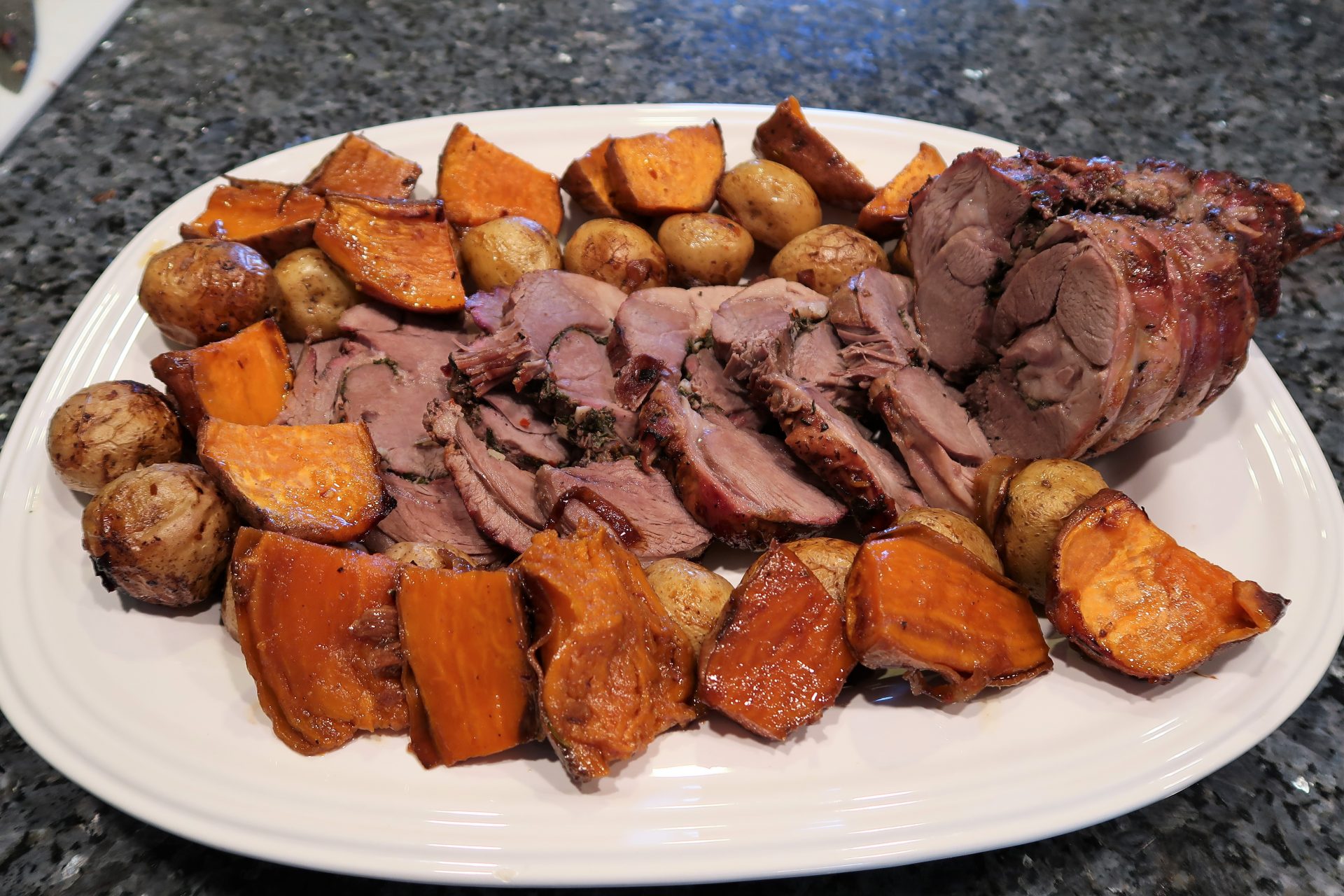 Hello Everybody! Today I will share with you how I prepare and cook a leg of lamb recipe. This recipe goes perfectly with a side of potatoes. To see me tips and techniques, watch the video below.
Ingredients:
7 lbs. leg of lamb, washed and dried
5 cloves of garlic, chopped
2 Tbsp mint, chopped
3 Tbsp rosemary, chopped
3 Tbsp olive oil, extra virgin
2 Tbsp salt
2 tsp black pepper, freshly ground
2 pinches of hot pepper flakes
butchers twine
1/2 onion, sliced
To remove the bone, use a sharp knife to cut the meat around the bone. You can see how I do it in my video above.
Once the bone is removed, lay the leg flat on a cutting board. Sprinkle 1 tbsp of salt, 1 tsp of black pepper, and a pinch of hot pepper flakes on top of the meat.
In a bowl, mix the rest of the salt, black pepper, hot pepper flakes, mint, rosemary, and garlic. Sprinkle half of the mix on top of the lamb, rub it in, and then starting from one end, tightly roll the leg into itself.
Wrap the butchers twine around the leg to keep it together. I show my method in the video above.
Rub the rest of the herb mix onto the outside of the leg.
Drizzle 1 tbsp of olive oil onto a baking pan and then roll the leg over the oil to simultaneously spread it out evenly on the pan and coat the outside of the lamb. Next, pour the rest of the olive oil on top of the lamb and around it on the pan. Let sit for at least 30 minutes to marinate before cooking.
Roast the leg of lamb in the oven at 400°F for 120-150 minutes. About an hour into cooking, add the onions into the pan for extra flavor. At this point, you can also add potatoes.
Once the lamb is cooked, remove from the oven and let sit until the temperature drops down a bit before slicing and serving. Enjoy and cin cin!