Tonight I will like to share with you a special recipe, Linguine with Truffles. The truffles were hard to get, but I was eventually able to get them specially ordered by Sickles Market in Little Silver, NJ. Watch my video below for step by step instruction on how to cook this recipe!
Ingredients:
Black Summer Truffles
Linguine
Sage
Butter
Parsley
Parmigiana Cheese
Black Pepper
Since this dish only takes a few minutes to cook, you can start boiling water for the linguine. Then you will need to put 6 tablespoons of butter and few sage leaves into a pot, with the heat level on low. Let the butter and sage cook slowly, letting the butter absorb all of the sage flavor. Once the water starts boiling, add in your linguine pasta.
At this point you can start chopping up the parsley, just enough to top off each dish.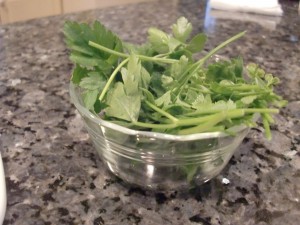 Once the pasta is done cooking, strain it and dump the pasta into the pot of butter and sage. Mix the pasta. Remove the sage. Put a serving of pasta into a dish, top it off with parmigiana cheese and parsley. Now shave a few pieces of truffles over the pasta.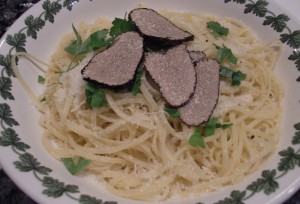 Salute and cin cin!