Hello Everybody! Today I have for you this delicious Pasta Primavera Recipe. Spring has finally arrived and I am ready for the warmer weather. Although it is still a bit cold outside, I thought I would get in the Spring spirit and enjoy this dish. Watch how I make this recipe in the video below or continue scrolling for the written recipe.
Ingredients:
1 lb. pasta, I used fusilli
1 zucchini, cut into strips
1 handful of asparagus, cut into thirds and peeled
1 cup cherry tomatoes, halved
1/2 yellow bell pepper, sliced into thin strips
1/2 red bell pepper, sliced into thin strips
1 cup peas
1 green Italian long hot pepper, sliced
3-4 garlic cloves, chopped
3-4 Tbsp. olive oil
salt, to taste
black pepper, to taste
fresh basil leaves
handful of parsley, chopped
pecorino cheese
Bring a pot of water and a pinch of salt to a boil. Cook the pasta as per the package instructions or until al dente.
Pour the oil into a deep pan and begin sauteing the garlic over a medium flame for about a minute. Next, stir in the red, yellow, and green peppers. Continue stirring for about a minute and then stir in the asparagus. Saute for about 1 minute and then stir in the zucchini. After about another minute, add the cherry tomatoes and continue sauteing for about 2 minutes. Lastly, stir in the peas. Add a pinch of salt and freshly ground black pepper and continue to saute over a medium/low flame for about 15-20 minutes.
Once the pasta is al dente, scoop in two ladles of the pasta water into the sauteed vegetable pan and stir. Strain the pasta and add to the vegetable pan and cook for another 5 minutes, making sure to stir occasionally. Transfer the pasta primavera to a serving dish, top with parsley, a few fresh basil leaves, and freshly grated pecorino cheese and enjoy! Cin cin!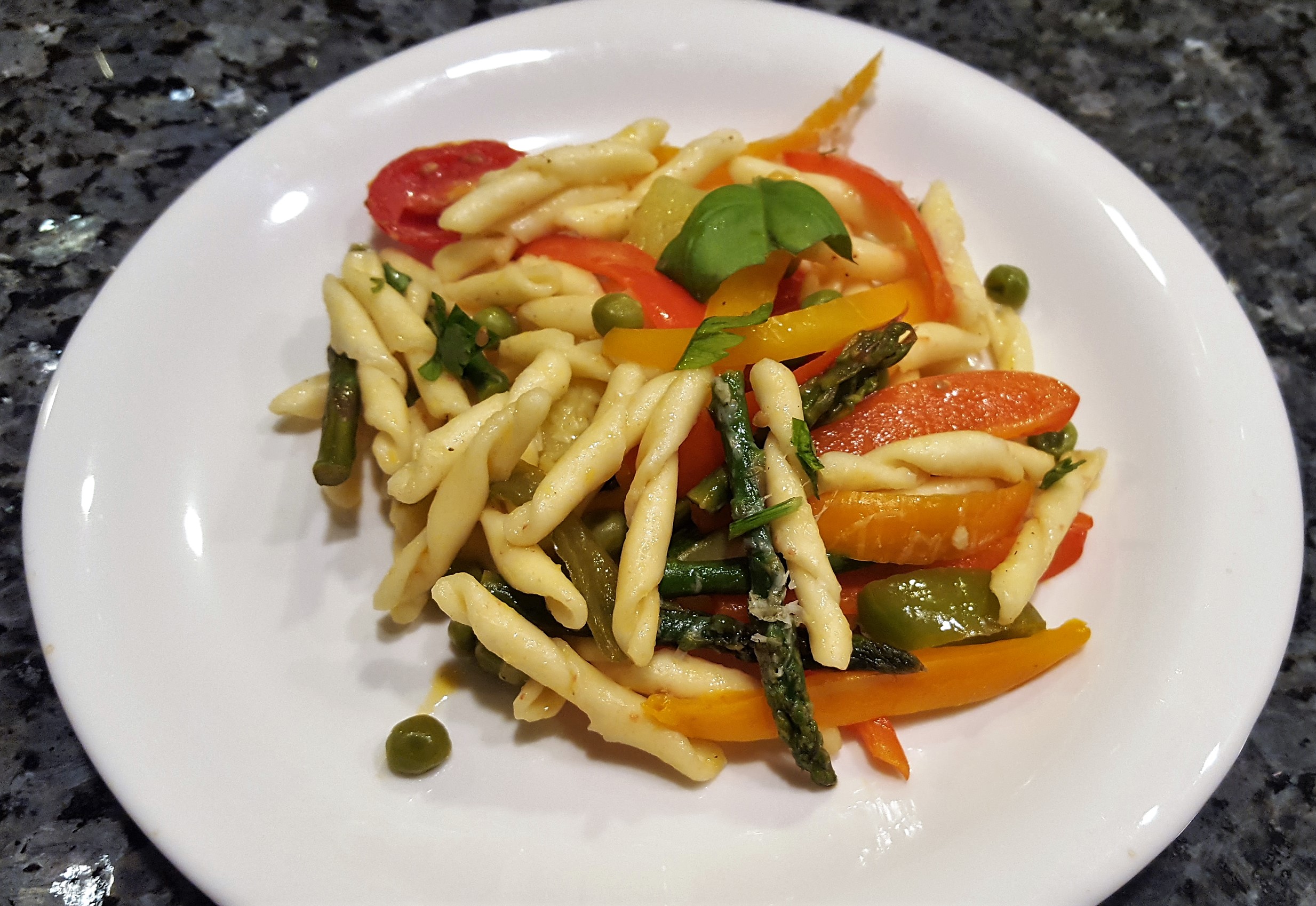 Optional: Enjoy with a side of toasted bread (with a bit of garlic and butter) and fresh mozzarella and tomatoes!