Hello Everybody! Today I have a delicious spaghetti frittata recipe to share with you all. This recipe is perfect for when you have leftover pasta. Easy, quick and tastes great! It also makes for a filling breakfast. Watch the video below to see how I cook this recipe and/or continue below for the written recipe.
Ingredients:
3-4 ounces cooked pasta, like spaghetti or linguine
2 Tbsp. pecorino cheese, freshly grated
8 oz. mozzarella cheese, cubed
7 eggs
1 Tbsp. fresh parsley, chopped
3-4 slices of bacon, chopped
salt, to taste
black pepper, to taste
olive oil
Prepare your leftover pasta by coating in a drizzle of olive oil to keep the noodles from sticking together.
Start by frying the bacon in a drizzle of oil in a pan. After about 3 minutes of frying, add the pasta to the pan, mix and fry over a low flame.
In the meantime, in a mixing bowl, whisk the eggs, parsley, black pepper, salt, mozzarella cheese, and pecorino cheese all together.
Pour into the spaghetti and bacon pan and continue to cook over a low flame for about 10 minutes. After 10 minutes, flip to the other side and cook for another 10 minutes.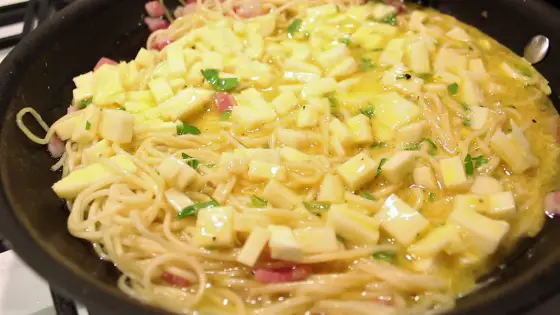 Remove from the pan, cut into slices and serve! Enjoy and cin cin everybody!